Chai tea is the perfect start to any cold winter morning. We show you how to make a healthy chai tea smoothie with this easy to do recipe!
The winter months are upon us. Even all of us in little old Birmingham are experiencing sub-freezing temperatures around our fair state. That being said, cold weather is the perfect opportunity for TEA! We've already shown you how to make a vitamin packed Kiwi, Mint Smoothie, now we take a stab at a winter favorite; Chai Tea.
For those unfamiliar with Chai Tea you may be wondering, what is Chai Tea?
Chai tea is a spicy, pungent drink made from some of the world's most medicinally active herbs. There are thousands of chai recipes – many of which come from India – but the basic components of chai include black tea, cinnamon,ginger, clove, cardamom and black pepper.​ (From HealthyEating.com)
Taking it a step further Chai tea is a fantastic beverage to keep your sinuses open and your head clear during bitter cold temperatures. Read for our easy to do instructions below!
---
Ingredients: 
(Makes 1 smoothie)
1/4 teaspoon of vanilla extract
1/2 teaspoon of powdered ginger
1/2 teaspoon of cinnamon
1 frozen banana (the riper the better)
Pepper, cardamom, ground cloves, and nutmeg to taste (we suggest just a pinch)
1 cup of milk
1 tea bag of H.C. Valentine's new Malasa Chai Tea (available on our webstore under Tea -> Loose Leaf Tea)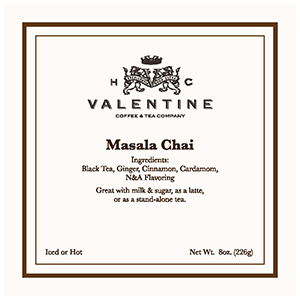 ---
Directions:
Heat milk on stove for 90 seconds on medium-high
Put tea bag in milk and place into refridgerator 
Steep until drink is chilled (3-4min)
Combine banana, tea-milk, spices and extract into blender and blend until smooth.
Enjoy!
This fantastic recipe will give your morning routine a fantastic kick! Be sure to share your concoctions with us on Twitter and Pinterest!