Many of our customers know there's a Royal Cup of coffee or tea in their future. It might be tomorrow morning or even this afternoon. And after enjoying that cup, you might already be looking forward to your next one. For nearly 125 years, we have been able to provide this level of predictability and reliability in our coffee and tea products because of how we hand-select the beans from the farms at origin. 
We have high standards brewed into every cup of coffee and tea, particularly when it comes to ensuring those rich aromas, complex roasts, and steadfast quality will continue to delight generations for years to come.  
When it comes to the future, there's a lot at stake. Climate change, deforestation, fair working conditions, and economic prosperity in the growing regions we partner with all affect our ability to continue to serve up your favorite beverages, and we don't take that responsibility lightly. That's why, to ensure a delicious future that everyone can savor, we've partnered with the Rainforest Alliance™ — because sustainability affects everyone. 
What is the Rainforest Alliance™?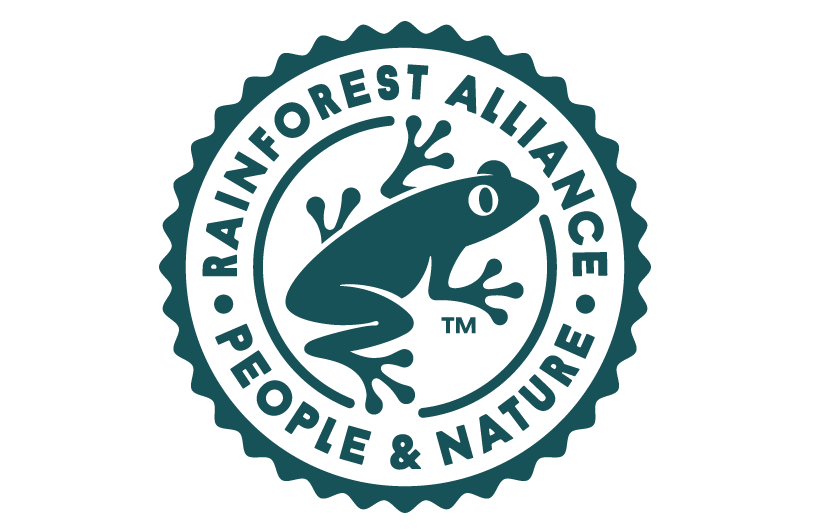 The Rainforest Alliance™ is a non-profit organization that supports the intersection of people and nature. Much like Royal Cup, Rainforest Alliance™ aims to make sustainability in business a "new normal." They do this by practicing what they preach, including protecting forests from construction, promoting human rights and fair working conditions, and promoting a healthier planet. 
All of these factors threaten the very future of not only our industry but also the health and well-being of the planet. Like Royal Cup, Rainforest Alliance™ aims to leave the earth better than they found it. By addressing things like droughts, floods, changes in the growing season, and rural economic prosperity, farmers can be more resilient in the face of adversity, prepare for future challenges, and contribute to a healthier, happier planet. 
Creating Harmony Between People and Nature 
As a society, we are wholly dependent on the conditions of the world around us. We survive on the fruits of the earth and depend on farming and natural resources to secure the next generation of humans. While humans rely on nature, nature also depends on the good stewardship of humans to preserve its forests, water sources, and ecosystems that allow sustainability to thrive. 
One of the ways the Rainforest Alliance™ is supporting a sustainable future is through its certified coffee program. Coffee farms and groups can earn the Rainforest Alliance Certified Coffee seal by meeting and maintaining strict criteria for quality and sustainability. The criteria encompass human rights, climate, livelihoods, and forests, and biodiversity. By targeting the source of each cup of coffee — the growing regions — Rainforest Alliance™ creates a ripple effect throughout the supply chain whose effects are greater than the sum of its parts. 
One example Rainforest Alliance™ provides is helping growers think differently about climate changes that alter growing conditions. Rising temperatures have forced many growers to seek higher elevations or exit the industry altogether. But as part of its certification program, Rainforest Alliance™ looks for unique climate vulnerabilities an area faces and creates a tailored plan of action to overcome climate challenges. This might be strategically planting native shade trees to protect crops from the brutal heat, applying pesticides at certain times of the year and in the right amounts, or improving soil absorption and humidity retention, for example. 
It's a long road to achieve certification, one that's filled with stringent farm and supply chain requirements, education, and evidence. And once growers earn their seal, they must continue to maintain their commitment to quality and excellence and meet new standards as they become available. 
Follow the Frog: Our Commitment to Sustainability 
Rainforest Alliance's annual campaign, "Follow the Frog," is designed to raise brand awareness about all products bearing the organization's tree frog emblem of responsibly sourced materials.  The two-week-long social media campaign encourages consumers to use the hashtag #FollowtheFrog to follow, comment, share, and take self-portraits with Rainforest Certified products. 
The Rainforest Alliance™ seal is so much more than a shiny sticker. It's a testament that a grower is dedicated to providing the coffee of tomorrow and puts our planet over profits. While the majority of people feel powerless in the face of a growing sustainability crisis, growers that have achieved their seal are proactively doing something to make the world a better place.  
At Royal Cup, we look to do our part in making the world a better place too. We're making better choices for our planet, too, including partnering with growers that care just as much about sustainability as we do. Shared values like these are beneficial to us all because they not only show what's possible but also that actions great and small can make a real difference. 
Every time we choose to Follow the Frog, our Royal Cup customers do, too. We're using our choices to help consumers make better choices for themselves, other people, and nature — and encouraging other growers and companies to follow in our footsteps. 
Creating the Future We Want 
The future is still unwritten — mostly. The world is old enough and enough science is available for us to be able to predict what the future might hold with some degree of certainty, at least when it comes to the health and well-being of our planet. We don't need a crystal ball to tell us the world is in danger if we do not start protecting biodiversity. We've seen what happens when profits are prioritized over human rights and livelihoods.  
We have the unique opportunity to shape the narrative of tomorrow by taking action today. At Royal Cup, we are building the future we want to be a part of. We believe that our actions in supporting the Rainforest Alliance and the farmers who have earned the Follow the Frog seal set a strong example of what the coffee industry should be and how it should function.  
It's time to make a real difference, one that will set the course for a better future for all — and ensure you never have to think twice about your next cup of coffee.