Nutella has made its way into the homes (and hearts) of dessert lovers across the world. With its rich flavor and silky-smooth texture…what's not to love?! When our team at Royal Cup heard it was World Nutella Day, we did the only thing we know how – celebrate with our favorite pick-me-up.  See our staff favorite Nutella and coffee combos, below!
Next-Level Nutella Hot Cocoa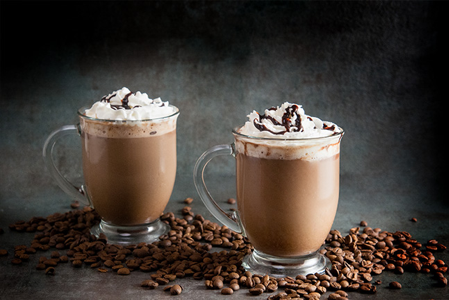 Ingredients:
3 cups Royal Cup brewed coffee (Click here to purchase)
1 cup half-and-half, milk, or cream
½ cup sugar or sweetener
¼ cup Nutella
Whipped cream and chocolate sauce for toppings
Directions:
Pour brewed coffee, half-and-half, sugar, and Nutella into a small saucepan over medium-low heat.
Stir until Nutella melts and all ingredients are combined.
Cook until hot, about 5 minutes with room temperature coffee.
Top with whipped cream and chocolate sauce for the perfect finishing touches!
Recipe courtesy of Seasoned Sprinkles.
Heavenly Hazelnut Coffee Nutella Cheesecake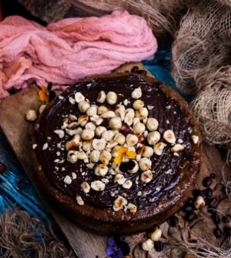 Ingredients:
Brownie Base
½ cup butter
⅔ cup dark chocolate, chopped
⅓ cup dark cocoa powder
1 cup hazelnut meal
2 large eggs
1 teaspoon vanilla extract
1 teaspoon hazelnut emulsion (optional, if available)
½ cup pastry flour
Pinch of salt
Cream cheese filling
3 ¾ cream cheese, at room temperature
1 cup sugar
5 large eggs, at room temperature
½ cup strong Royal Cup coffee (Click here to purchase)
2-3 tablespoons instant coffee beverage (preferably, mocha flavor)
3 tablespoons Kahlú a or another coffee-flavored liqueur
1 tablespoon vanilla extract
1 tablespoon hazelnut emulsion (optional, if available)
½ - 1 cup of toasted hazelnuts, to garnish, roughly chopped
Glaze
½ cup heavy cream
⅔ cup Nutella, at room temperature
⅓ cup dark chocolate, chopped
¼ cup  Kahlúa or other coffee-flavored liqueur
Directions:
In a pan combine the butter and chocolate and melt over medium heat. Remove from heat and let cool for 3-5 minutes.
Add the sugar, whisking, to incorporate.
Using either a whisk or a hand mixer, beat the eggs, one at a time.
Stir in the vanilla, salt, hazelnut meal, and cocoa. Start gradually adding the pastry flour. Depending on the moisture, you may need slightly less or more than ½ cup of flour. The batter should remain scoopable, sticky and moist.
Transfer the batter into a 20 cm spring-form pan and slightly press. Bake the crust for t  7-10 minutes at 350 F, then remove and completely cool.
Reduce the oven temperature to 300 F. Place a pan filled with water on the lower rack of the oven.
Start making the cheesecake. Using an electric mixer on low,  mix the cream cheese, sugar, instant coffee mixture (if using), hazelnut emulsion (if using), and vanilla in a large bowl for 2-3 minutes until the sugar has been incorporated. Add the eggs and beat 1 minute. Add the coffee and coffee liqueur , beating for 15 seconds to combine.
Pour one filling into the cooled crust. Slightly tap the pan few times around the bottom - this will help to release the bubbles and decrease the possibility of cracking it.
Bake the cheesecake for about 50-60 minutes. Check the cheesecake - the edges of the cheesecake should look firm and set while the center remains slightly fudgy. If it doesn't look like that yet, bake it for another 5-10 minutes.
Turn the oven off and leave the cheesecake for another 10-15 minutes inside (You can open the door if you're afraid of overcooking it). Remove the cheesecake from the oven and let it completely cool. Refrigerate overnight, then remove the cheesecake.
To make the glaze, in a medium pan over low-medium heat, combine the heavy cream and dark chocolate until melted, stirring. Add in the Nutella and  liqueur , then simmer for 1-2 minutes, stirring. Remove from heat and let cool. The glaze will remain thin, but it will thicken up a bit once cooled; you can refrigerate it to speed up the process.
Spread the Nutella glaze over the chilled cheesecake and garnish with hazelnuts.
Recipe courtesy of Havocinthekitchen.
Not-Your-Basic Breakfast Muffins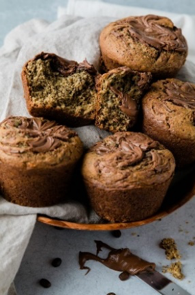 Ingredients:
2 cups all-purpose flour
⅓ cup freshly brewed Royal Cup coffee (Click here to purchase)
2 teaspoons espresso powder
1 tablespoon ground flaxseed
1 teaspoon baking soda
1 teaspoon baking powder
½ teaspoon salt
2 large ripe bananas, mashed
1 cup sugar
⅓ cup vegetable oil
2 large eggs
2 teaspoons coffee extract
½ cup Nutella
Directions:
Preheat oven to 400 F and place liners within a muffin tin or spray with nonstick baking spray. Stir until Nutella melts and all the ingredients are combined.
In a medium sized mixing bowl, mix the flour, espresso powder, flaxseed, baking soda, baking powder, and salt. Set aside.
In another mixing bowl, whisk together bananas with the sugar. Then whisk in the oil, eggs, brewed coffee, and coffee extract. Gradually mix in the flour into the wet mixture. Dough will be thick.
Fill each muffin section about ½ of the way up. Place 1-2 teaspoons of Nutella in the middle and then top the muffin with more batter. Bake 15-17 minutes for small muffins and 17-20 minutes for larger muffins, or until a toothpick comes out clean!
Recipe courtesy of KrollsKorner.
Chocolate Lover's Favorite Frappé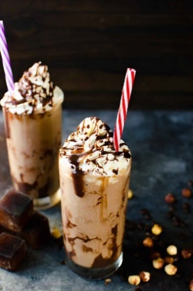 Ingredients:
2 cups of Royal Cup cold brew coffee, frozen into ice cubes (Click here to purchase)
¾ cup chilled full cream milk or half-and-half
⅓ cup Nutella
1 teaspoon vanilla (optional)
1 - 2 tablespoons agave syrup (optional)
Extra milk if needed
Directions:
Place the milk or half-and-half and Nutella in a blender. Blend for a few seconds until the Nutella is completely mixed with the milk.
Next, add the coffee ice cubes (and agave and vanilla, if using) and blend on high speed until the ice cubes are completely crushed and you have a slushie-like consistency. Add extra milk ONLY if required to help crush the ice better.
Drizzle Nutella sauce inside a serving glass and pour in the Nutella frappé mixture.
Serve with a straw or topped with whipped cream and another drizzle of Nutella sauce. Enjoy!
Recipe courtesy of The flavor bender.
Craving more decadent creations? Try these Nutella iced coffee mini cheesecakes!
We hope these recipes perk you up on World Nutella Day! Share your sweet treats with us on Facebook, Twitter, and Instagram.