College basketball is officially back, and Royal Cup is gearing up for a season of slam dunks on and off the court! No matter what the scoreboard says, these gameday recipes will leave you and your friends cheering for more.
Winning Shot Brisket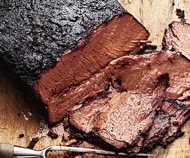 Ingredients:
6 cups oak or hickory wood chips
1 tablespoon Royal Cup coffee grounds (Click here to purchase)
1 tablespoon kosher salt
1 tablespoon dark brown sugar
2 teaspoons smoked paprika
2 teaspoons ancho chili powder
1 teaspoon garlic powder
1 teaspoon onion powder
1 teaspoon ground cumin
1 teaspoon freshly ground black pepper
1 (4 ½-pound) flat-cut brisket (about 3 inches thick)
Directions:
Soak the wood chips in water at least 1 hour; drain.
Combine coffee and the next eight ingredients in a bowl. Pat brisket dry; rub with coffee mixture.
Remove grill rack and set aside. Prepare grill for indirect grilling, heating one side to high and leaving one side with no heat. Pierce the bottom of a disposable aluminum foil pan several times with the tip of a knife.
Place the foil pan on the heated side of grill; add 1 ½ cups of wood chips to pan. Place another disposable aluminum foil pan (do not pierce pan) on the unheated side of grill. Pour 2 cups water in the pan. Let chips stand for 15 minutes or until smoking; reduce heat to medium-low. Maintain temperature at 225° F.
Place the rack on the grill. Lay the brisket in a small roasting pan and place the pan the on the grill rack on the unheated side. Close lid; cook for 6 hours or until a meat thermometer registers 195° F. Add 1 ½ cups of wood chips every hour for the first four hours; cover pan with foil for the remaining 2 hours. Remove from the grill. Let stand, covered, for 30 minutes.
Unwrap brisket, reserving juices; trim and discard fat. Place a large zip-top plastic bag inside a 4-cup glass measure. Pour juices through a strainer into bag; discard solids. Let drippings stand for 10 minutes (fat will rise to the top). Seal bag; carefully snip off one bottom corner of bag. Drain drippings into a bowl, stopping before fat reaches opening; discard fat. Cut brisket across grain into thin slices; serve with juices.
Recipe Courtesy of My Recipes.   
Cheesy Potato Baskets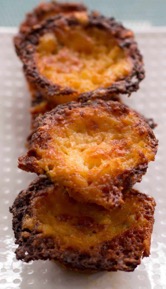 Ingredients:
5 tablespoons butter, melted and divided
¼ cup fine cracker or breadcrumbs
1 ½ pounds starchy potatoes, preferably mix of russet and Yukon gold, peeled and cut into 2-inch cubes
3 tablespoons whole milk or half-and-half
3 tablespoons brewed Royal Cup coffee (Click here to purchase)
3 tablespoons sour cream
6 ounces cheddar cheese, shredded and divided
1 tablespoon chives or green onions (scallions), minced
Directions:
Preheat oven to 400° F. Using a pastry brush, spread melted butter on each cup of a 24 mini muffin tin, then coat the cups with the cracker or breadcrumbs. Set aside. Divide the remaining melted butter about in half. 
Put the potato cubes in a pot. Add cold water to about 1 inch above the cubes, cover, and bring it to a boil. Uncover, lower the heat, and cook until you can pierce the potatoes with a fork, about 10 minutes after the water reaches a boil. Immediately drain the potatoes and put them back in the hot pot, tossing it for a few minutes.
Take half of the melted butter that remained after preparing the muffin tins; add the milk/half and half and the coffee. Warm those liquid ingredients and then pour them over the potatoes. Mash the potatoes.
Add the sour cream, half the shredded cheese, and the minced chives/scallions. As the mixture cools down, get ready to fill the mini muffin tins.
Using two teaspoons, put a small ball of mashed potato mixture into each mini muffin tin. Press down slightly, add most of the remaining cheese, then top off with a tiny piece of mashed potato mixture, followed by a dab of melted butter and a tiny sprinkle of shredded cheddar cheese.
Bake the mini muffin cups for 30 minutes in the center of the oven.
When they are done, let the potato cups sit in the muffin tin for a few minutes. Once the muffin tin has cooled down a bit, slip a sharp knife around the edges of any muffins that appear to be stuck in the tin or to each other. Gently turn the muffin tin over on a wire rack and let the muffins slide out.
Let the muffins cool down for a few additional minutes before serving. Enjoy!
Recipe Courtesy of Mother Would Know.  
Alley-Oop Black Bean Soup

Ingredients:
1 pound dried black beans (2 cups)
2 tablespoons extra-virgin olive oil
2 medium onions, finely chopped,
⅓ cup reserved for garnish
1 red bell pepper, finely chopped
2 large stalks celery, chopped
1 jalapeño pepper, seeded and finely chopped
3 large cloves garlic, minced
1 tablespoon ground cumin
4 cups water
2 cups brewed coffee (Click here to purchase)
1 ham hock (optional)
1 bay leaf
1 teaspoon salt, plus more if needed
Chopped fresh cilantro for garnish
6 tablespoons reduced-fat sour cream or plain Greek yogurt for garnish
Directions:
Rinse beans well. Place in a large bowl with cold water to cover by 2 inches. Let soak for at least 6 hours or overnight. Drain.
Heat oil in a soup pot or Dutch oven over medium-high heat. Add all but ⅓ cup of the onions, bell pepper, celery, jalapeno, and garlic; cook, stirring frequently, until the vegetables are beginning to brown, 5 to 8 minutes. Add cumin and cook, stirring, 1 minute more. Add the beans, water, coffee, ham hock, and bay leaf; cover and bring to a boil, stirring occasionally. Skim off any foam that rises to the top, reduce the heat, cover and simmer until the beans are very tender, about an hour and a half. If using, remove the ham hock and set it aside to cool; remove the bay leaf. Stir in salt.
Puree half of the soup in a blender or food processor until fairly smooth (use caution when pureeing hot liquids.) Return the pureed soup to the pot and heat through. If desired, cut meat off the ham hock, trim away any fat, and chop the meat into small pieces; stir back into the soup.
Serve the soup garnished with the reserved chopped onion, a dollop of sour cream (or yogurt) and cilantro, if desired.
Recipe courtesy of Eating Well.  
Courtside Cupcakes with Marshmallow Topping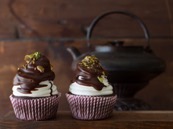 Ingredients:
Cupcakes
1 ¾ cup all-purpose flour
1 cup sugar
½ cup cocoa powder
2 teaspoons baking soda
1 teaspoon baking powder
½ teaspoon salt
2 eggs
1 cup Royal Cup coffee (Click here to purchase)
1 cup yogurt
½ cup grapeseed oil or vegetable oil
1 tsp vanilla extract
1 tablespoon Irish Cream liquor
Frosting
2 cups sugar
5 large egg whites, room temperature
½ cup water
½ teaspoon cream of tartar
1 tablespoon pure vanilla extract
melted chocolate for coating - optional
pistachio nuts for topping - optional
Directions:
Preheat the oven to 350°F.
In the medium bowl mix together all dry ingredients. Add all wet ingredients to the mixture and mix well, about 2 minutes. For standard cupcakes, fill two thirds full and bake for 15-18 minutes. Let them cool while you prepare a marshmallow fluff topping.
To make the topping, combine sugar, egg whites, water, and cream of tartar in the bowl of an electric mixer. Whisk until foamy. Set bowl over a pan of barely simmering water and whisk until sugar is dissolved and the mixture is warm to the touch, about 3 to 5 minutes. Transfer bowl to stand mixer fitted with a whisk attachment. Beat on high speed until frosting forms stiff peaks, about 12 to 16 minutes. Add vanilla and beat until combined.
Transfer frosting to two large pastry bags fitted with 1/2-inch round tips. Pipe a spiral of frosting into a 2-inch-high cone shape, using about ½ cup frosting per cupcake.
Top the marshmallow with melted chocolate and nuts if you desire.
Recipe courtesy of Cooking Melangery.
Check out more perky gameday recipes on our blog!
We hope these delicious treats give you a-latte to celebrate this season. Take your best shot at these recipes and share your creations with us on Facebook, Instagram, or Twitter!