Whether you're snowed in for the season or experiencing typical Alabama "winter" weather, our team at Royal Cup has just the thing to warm you up. This year, perk up your festive celebrations with help from these delicious recipes!
Brew-tiful Holiday Ham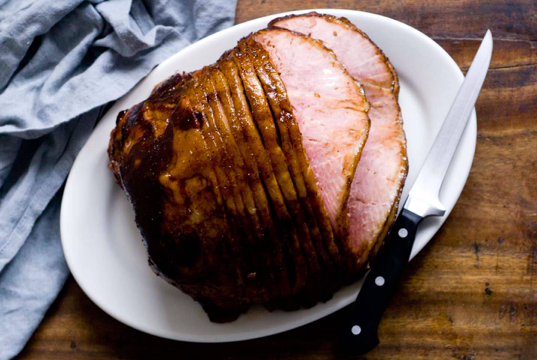 Ingredients:
1 (5-6 pound) spiral sliced, bone-in ham
½ cup packed brown sugar
¼ cup brewed dark Royal Cup coffee (Click here to purchase)
2 tablespoons yellow mustard
1 teaspoon ground cinnamon
1 teaspoon black pepper
½ teaspoon kosher salt
¼ teaspoon ground cloves
Directions:
Preheat the oven to 275°F and line a deep roasting pan with foil. Place the ham flat-side down in the pan and then cover loosely with foil. Cook 15 minutes per pound or until an inserted thermometer reads 135°F.
Meanwhile, in a pot whisk together the brown sugar, coffee, mustard, cinnamon, black pepper, salt, and clove. While stirring, cook on low heat until slightly reduced and glistening, about 5 minutes.
Once the ham is warmed, remove it from the oven and turn up the heat to 425°F. Brush all sides of the ham with the glaze, and then return the ham to the oven.
Cook uncovered for 15-20 minutes or until the glaze is browned and glossy.
Allow the ham to rest for 20 minutes before serving. Serve with the pan juices on the side, if you like.
Recipe courtesy of Homesick Texan.
The Perfect Perky Eggnog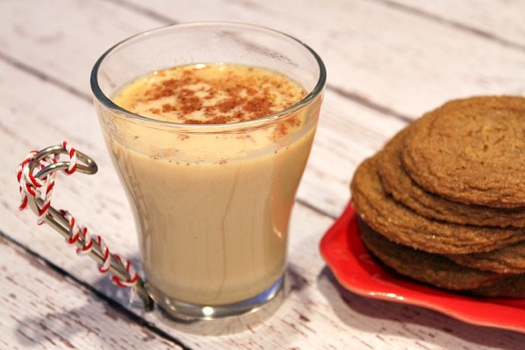 Ingredients:
2 cups prepared eggnog (light or regular)
1 cup brewed Royal Cup coffee (Click here to purchase)
¼ cup granulated white sugar
⅓ cup Irish Cream liqueur
¼ cup brandy (or White Christmas = brandy + rum)
Ground nutmeg, for sprinkling on top
Directions:
Pour the eggnog into a small pitcher or large measuring cup with a spout.
Stir the sugar into the coffee until dissolved. Let cool slightly. Then pour into the eggnog to combine. Stir in the Irish Cream and brandy. Warm, if desired, in small bursts in the microwave, or slowly in a saucepan on low heat, or serve at room temperature.
Pour into individual serving cups and sprinkle with nutmeg.
Recipe courtesy of Recipe Girl.
Cheerful Cauliflower with Coffee Sauce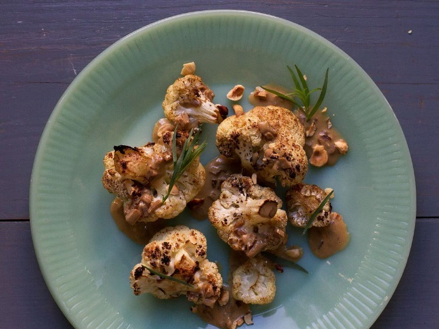 Ingredients:
¼ cup plus 2 tablespoons extra-virgin olive oil
1 teaspoon instant espresso powder
2 heads cauliflower, cored and cut into 1 ½-inch florets
Kosher salt and freshly ground black pepper
2 shallots, minced
¾ cup brewed Royal Cup coffee (Click here to purchase)
¼ cup plus 2 tablespoons whiskey
¾ cup heavy cream
¼ cup toasted hazelnuts, chopped
3 tablespoons roughly chopped tarragon leaves and sprigs
Directions:
Heat the broiler. In a large bowl, whisk ¼ cup olive oil with the espresso powder, add the cauliflower, and season with salt and pepper. Toss the cauliflower in the oil until evenly coated and then spread out evenly between two baking sheets. Working with one baking sheet at a time, broil the cauliflower, turning as needed, until tender and charred in spots, about 10 minutes.
Meanwhile, heat the remaining 2 tablespoons olive oil in a 10-inch skillet over medium-high. Add the shallots and cook, stirring occasionally, until lightly caramelized, about 3 minutes. Pour in the coffee and whiskey and bring to a boil. Reduce the heat to maintain a simmer and cook until the liquid has almost evaporated, about 5 minutes. Stir in the cream, season with salt and pepper, and remove the sauce from the heat.
To serve, transfer the cauliflower to a serving platter, drizzle with the sauce, and top with the hazelnuts and tarragon.
Recipe courtesy of Saveur.
Fa La La La Latte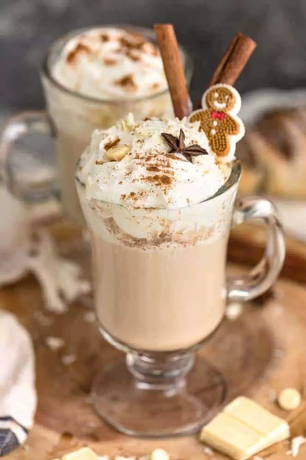 Ingredients:
1 - 1½ cups milk of your choice divided
1 teaspoon ground cinnamon
1 teaspoon ground ginger
¼ teaspoon ground nutmeg
¼ teaspoon ground cloves
1 teaspoon brown sugar or to taste
1 tablespoon molasses
½ cup freshly brewed Royal Cup espresso (Click here to purchase)
Whipped cream
Shaved white chocolate or chips (optional for garnish)
Directions:
Heat ¼ cup of milk, cinnamon, ginger, nutmeg, cloves, brown sugar, and molasses in a small saucepan over medium heat or in the microwave for 30 seconds, until spices and sugars dissolve when stirred. Remove from heat and stir in hot espresso. Pour into a large mug or divide into two small mugs.
Steam remaining milk (using a frother, on the stove or in the microwave) and add to the espresso mixture.
Garnish with whipped cream, a sprinkle of cinnamon and some shaved white chocolate (or chips) if desired.
Recipe courtesy of Life Made Sweeter.
Have a Holly Jolly Brie Jam Bite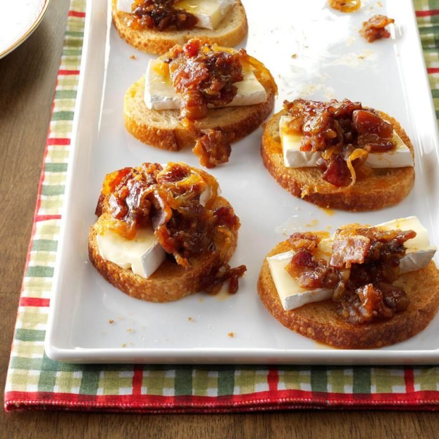 Ingredients:
1 pound bacon strips, chopped
1 cup thinly sliced sweet onion
1 shallot, finely chopped
5 garlic cloves, minced
1 cup brewed Royal Cup coffee (Click here to purchase)
½ cup water
¼ cup cider vinegar
¼ cup pitted dried plums, coarsely chopped
3 tablespoons brown sugar
1 tablespoon maple syrup
1 tablespoon Sriracha chili sauce
½ teaspoon pepper
30 slices Brie cheese (¼ inch thick)
30 slices French bread baguette (¼ inch thick), toasted
Directions:
In a large skillet, cook bacon over medium heat until partially cooked but not crisp. Remove to paper towels with a slotted spoon; drain, reserving 1 tablespoon drippings.
Add onion and shallot to drippings; cook and stir 5 minutes. Add garlic; cook 2 minutes longer. Stir in coffee, water, vinegar, plums, brown sugar, maple syrup, chili sauce, and pepper. Bring to a boil. Stir in bacon. Reduce heat; simmer, uncovered, 70 to 90 minutes or until liquid is syrupy, stirring occasionally. Remove from heat. Cool to room temperature.
Transfer mixture to a food processor; pulse until jam reaches desired consistency. Place cheese slices on toasted baguette slices. Top each with 2 teaspoons jam.
Recipe courtesy of Taste of Home.
Santa's Nice List Peppermint Mocha Cookies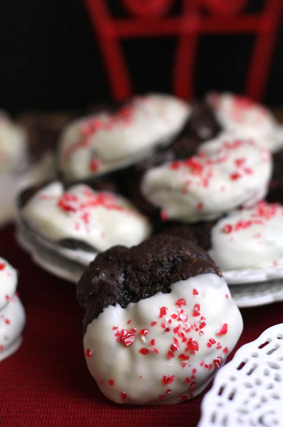 Ingredients:
1 ½ cups all-purpose flour
½ cup baking cocoa
1 teaspoon baking soda
½ teaspoon salt
½ cup unsalted butter - softened to room temperature
½ cup white sugar
½ cup brown sugar
2 large eggs - at room temp
1 tablespoon vanilla
¼ cup strong Royal Cup coffee – cooled (Click here to purchase)
1 cup dark chocolate chips
1 ¼ cup white chocolate melting wafers 
Peppermint crunch sprinkles 
Directions:
In a medium bowl, combine dry ingredients - the flour, baking cocoa, baking soda, and salt. Set aside.
In a large standing mixer, cream together the softened butter and sugars. Add the eggs, vanilla, and cooled coffee. Mix well.
Add the dry ingredients to the mixer and mix to just combined. Don't over-stir.
Gently add dark chocolate chips to mixer and combine. Refrigerate dough for at least two hours prior to baking (this allows for the dough to set up and will prevent the cookies from over-spreading).
Preheat oven to 350°F. Roll dough into small one-inch balls and arrange them on prepared baking sheets (with parchment paper).
Bake for 10-11 minutes. Remove to cooling racks.
When cookies are cool, melt the white chocolate in the microwave, using 50% power until creamy. 
Dip the cookies in the white chocolate, coating half of each one. Lay on baking sheets prepared with parchment paper, and sprinkle with peppermint crunch sprinkles as you go. If you wait too long to add the sprinkles, it won't stick!
Let cookies set up before placing in airtight container/freezer bags. Setting the baking sheets in the refrigerator will speed up this process.
Recipe Courtesy of Sue Bee Homemaker.
Find more sweet treats for Santa on our blog! 
Frost-tea's Hot Spiced Tea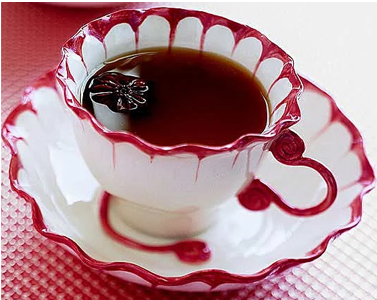 Ingredients:
2 cups water
3 Royal Cup black tea bags (Click here to purchase)
4 star anise
1 3-inch cinnamon stick
1 cup passion fruit nectar
3 tablespoons honey
2 tablespoons lemon juice
Directions:
In a medium saucepan bring water to boil. Add tea bags, anise, and cinnamon stick. Reduce heat. Simmer, uncovered, for 3 to 5 minutes.
Discard tea bags and cinnamon stick. Stir in nectar, honey, and lemon juice. Heat through.
Pour tea mixture into four heat-proof cups, floating a star anise on top of each. Makes 4 servings.
Recipe Courtesy of Better Homes & Gardens.
We hope these recipes bring a-latte comfort and joy to your friends and family this holiday season! Don't forget to share your festive creations with us on Facebook, Instagram, or Twitter!