A whole day dedicated to desserts – have you ever heard anything more brew-tiful? While all sweets are worth celebrating, our team at Royal Cup knows there's no match quite like chocolate and coffee. In honor of our new favorite holiday, we're sharing four dreamy recipes with a perky twist for our fellow coffee lovers to enjoy!
Coffee and Donuts Ice Cream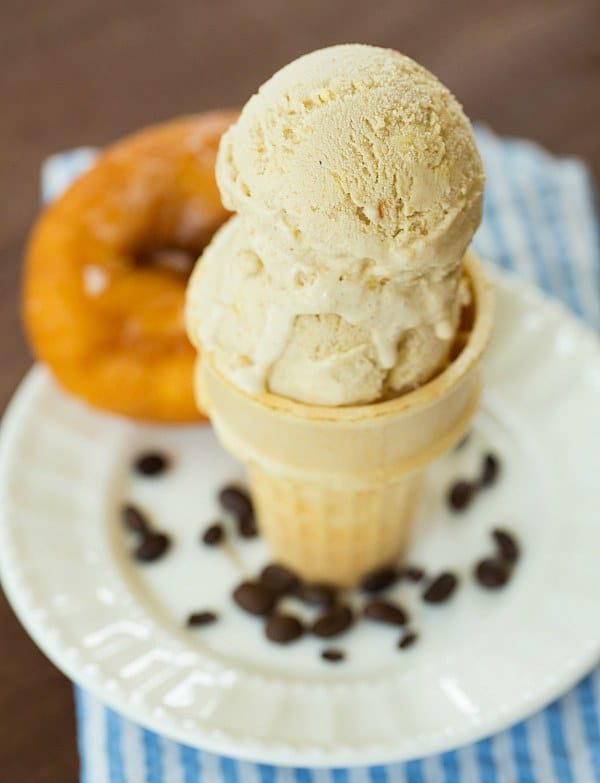 Ingredients:
1 ½ cups whole milk
¾ cup granulated sugar
1 ½ cups whole Royal Cup coffee beans (Click here to purchase)
3 glazed doughnuts (chopped, divided)
Pinch of salt
1 ½ cups heavy cream
5 egg yolks
¼ teaspoon vanilla extract
Directions:
Warm the milk, sugar, whole Royal Cup coffee beans, 2 doughnuts, salt, and ½ cup of the cream in a medium saucepan. Once the mixture is warm, cover, remove from the heat, and let steep at room temperature for 1 hour.
Rewarm the coffee-infused milk mixture. Pour the remaining 1 cup cream into a large bowl and set a mesh strainer on top. In a separate medium bowl, whisk together the egg yolks. Slowly pour the warm coffee mixture into the egg yolks, whisking constantly, then scrape the warmed egg yolks back into the saucepan.
Stir the mixture constantly over medium heat with a heatproof spatula, scraping the bottom as you stir, until the mixture thickens and coats the spatula (and registers 170° F on a thermometer). Pour the custard through the strainer and stir it into the cream. Press on the coffee beans and doughnuts in the strainer to extract as much of the coffee flavor as possible, then discard the beans and doughnut remnants. Mix in the vanilla and stir until cool over an ice bath.
Chill the mixture thoroughly in the refrigerator, then freeze it in your ice cream maker according to the manufacturer's instructions, adding the remaining chopped doughnut during the last few minutes of churning.
Recipe courtesy of Brown Eyed Baker.
Coffee Cream Eclairs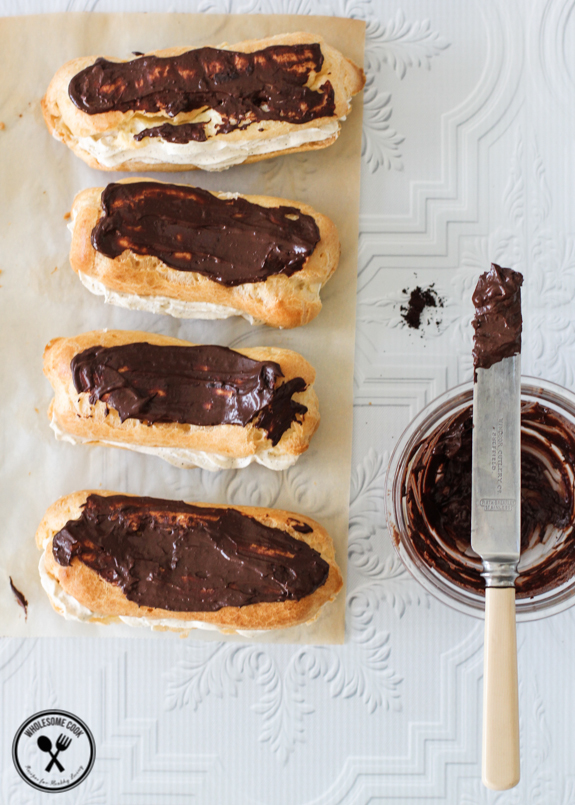 Ingredients:
For the pastry:
½ cup water
40 grams butter chopped
½ cup plain flour
2 eggs
For the coffee cream filling:
1 cup fresh cream
2 tablespoons unrefined powdered sugar
¼ teaspoon vanilla powder or essence
1 teaspoon finely ground Royal Cup coffee (Click here to purchase)
For the chocolate glaze icing:
3 tablespoons milk
40 grams dark 85% cocoa chocolate (finely chopped)
Directions:
Preheat oven to 425° F.
In a small saucepan set over medium heat, bring water and butter to a boil. Add flour and mix vigorously with a wooden spoon until the mixture comes away from the sides and forms a ball. This should only take a few seconds.
Transfer dough to a mixing bowl and flatten to cool slightly. Add eggs and beat with an electric mixer or whisk until glossy and smooth.
Using a 2 cm round piping tip or a zip lock bag with a 1.5 cm hole, pipe dough into 4-inch-long logs about 1 inch apart.
Bake at 425° F for 8 minutes, 350° F for 10 minutes, plus 5 minutes at 350° F with the oven off and door slightly ajar. Transfer to a cooling rack to cool completely before filling.
For the glaze, place milk and chocolate in a small bowl and heat on medium/high setting in the microwave for 20 seconds. Mix gently to melt and form a ganache.
For the filling, beat cream with sugar, vanilla, and Royal Cup coffee grounds until firm peaks form. Store in the fridge until needed.
Cut cooled eclairs in half horizontally. Fill each half with whipped cream, sandwich together and spread the top in chocolate icing. Place on a cool cookie tray and chill in the fridge for the icing to set. The eclairs should keep in the fridge for 2-3 days un-iced, or a day when iced.
Enjoy!
Recipe courtesy of Wholesome Cook.
Nutella Iced Coffee Mini Cheesecakes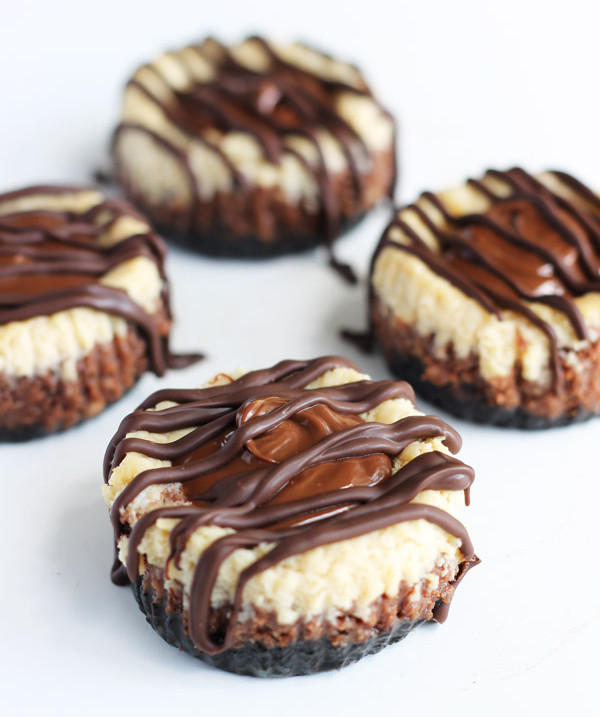 Ingredients:
½ teaspoon Royal Cup coffee grounds (Click here to purchase)
½ cup Oreos, crushed into fine crumbs
1 tablespoon butter
4 ounces cream cheese
2 tablespoons Greek yogurt, plain or vanilla
3 tablespoons sugar
2 tablespoons beaten egg
½ teaspoon vanilla extract
4 tablespoons Nutella
1 ½ tablespoons Royal Cup coffee (Click here to purchase)
¼ cup dark chocolate melting wafers
Directions:
Preheat oven to 350° F.
Prepare a muffin tin with 4 cupcake liners. Mix the Royal Cup coffee grounds, Oreo crumbs, and butter. Divide evenly between the 4 cups and press crust down firmly. Bake crust for 5 minutes.
To prepare the filling, beat cream cheese, sugar, Greek yogurt, egg, and vanilla in a medium bowl for 1 ½ minutes. Divide the cheesecake batter by pouring half of the batter into a separate bowl. In one bowl, mix in 2 tablespoons Nutella.
In the other bowl, mix in the Royal Cup coffee. Starting with the Nutella batter, fill each cup about halfway up. Fill the cups the rest of the way with the coffee batter.
Bake for 15-20 minutes. Cheesecake will be done when the center only jiggles slightly. Cool completely.
After cheesecakes are cooled, put ½ tablespoon of Nutella in the center of each cheesecake. Melt dark chocolate in the microwave in 30-second intervals, stirring after each one. Drizzle over cheesecakes. Chill until ready to serve. Enjoy!
Recipe courtesy of Cookbook Create.
Mocha Truffles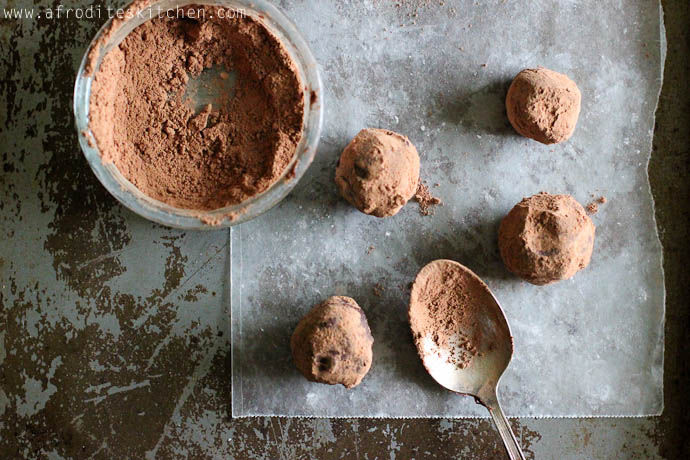 Ingredients:
226 grams bittersweet chocolate, finely chopped
1 cup heavy cream
2 tablespoons unsalted butter, room temperature
½ teaspoon vanilla
2 teaspoons Royal Cup coffee (Click here to purchase)
Directions:
Prepare a cup of coffee.
Put the chocolate, butter, and salt in a bowl.
Gently heat the heavy cream, bringing it to a very light simmer.
Add the cream, vanilla, and 2 teaspoons of coffee to the chocolate and stir it so the mixture becomes smooth.
Let the mixture cool for 1 hour. Then place the mixture in the fridge and let completely chill.
With a teaspoon, take a little spoonful of the ganache, shape into a ball and roll in cocoa.
Enjoy!
Recipe courtesy of Afrodites Kitchen.
Want more satisfying dessert recipes? Check out our blog.
We hope these recipes leave you frappe and full this National Dessert Day! Share your decadent creations with us on Facebook, Twitter, and Instagram.