The summer heat is in full swing and our team at Royal Cup knows the struggle to stay cool can be REAL! That's why we're sharing our secrets for transforming your favorite winter hot beverages into deliciously refreshing iced teas to perk up any summer day!
Back to the Basics
Let's start with the basics! We all know how to perfectly brew our morning cup of hot tea, but how does that work for making a big batch?! We're breaking it down with these five easy steps:
Bring 8 cups water to a simmer; remove from the heat.
Add 3 tablespoons loose tea or 6 tea bags.
Let steep about 4 minutes, until it's the strength you like.
Strain loose tea with a fine-mesh sieve or remove the tea bags.
Let cool, then transfer to a pitcher, cover and refrigerate.
See, we told you…. it's THAT easy! Now that we have the process down, how about some recipes!! These recipes are perfect to serve up for a summer party, or the perfect sidekick to any meal.
Refreshing Recipes
Passion Fruit Iced Tea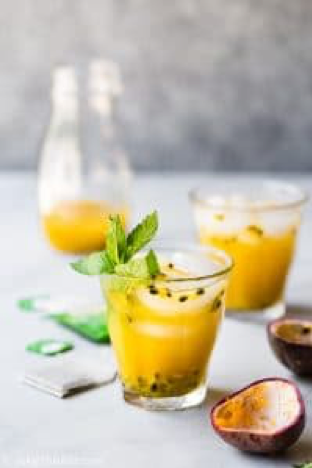 Ingredients:
Directions:
Add 3 tea bags to 2 ¼ cups of hot water. Brew for 3-4 minutes or to desired strength. Strain loose tea. Add honey and stir. Set aside to cool or chill in the fridge.
Cut open passion fruits, scoop out the pulps and strain to remove the seeds. Use the back of a spoon to help extract the passion fruit juice. You need about 1/2 cup of passion fruit juice.
Add passion fruit juice to the tea and stir to combine. You can serve immediately by adding ice to serving glasses and pour the passion fruit tea into each glass.
Recipe courtesy of Delightful Plate.
Cranberry and Cinnamon Rooibos Iced Tea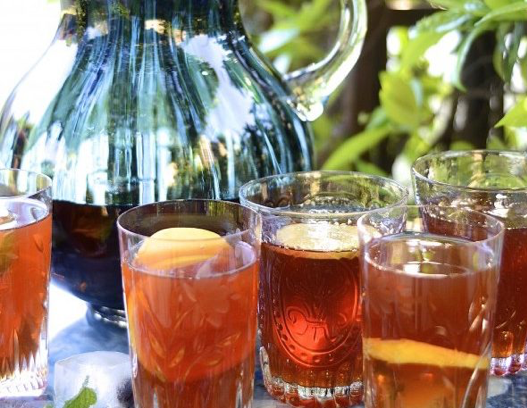 Ingredients:
3 tablespoons Royal Cup Organic Cranberry Rooibos Loose Tea
1/3 cup light brown sugar
3 cinnamon sticks, roughly broken
1-liter boiling water
1-liter cranberry juice
1 lemon, sliced
2 tablespoons lemon juice
1 red apple, sliced into thin wafer rounds
Mint, to serve
Blueberry ice cubes
Directions:
Place the loose tea, sugar and cinnamon in a large, heat-resistant jug. Pour the boiling water over and stir through until the sugar has dissolved. Set aside and steep for at least an hour or until cooled to room temperature. Strain loose tea and discard.
Add the cranberry juice, lemon slices, lemon juice and apple wafers. Chill for several hours or until completely cold.
To make the ice cubes, fill an ice tray with water and add your favorite fruit and a sprig of mint before placing in the freezer.
When ready to serve, half fill a tumbler with ice, a little extra mint and top off with the  tea. Enjoy!
Recipe courtesy of All4Women.
Minty Lemon Iced Tea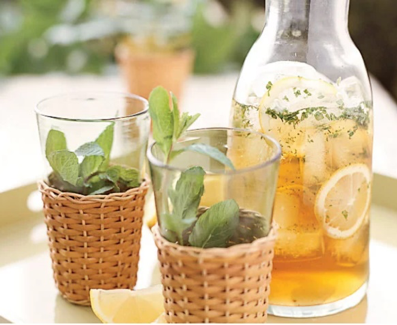 Ingredients:
Tea
1 cup mint leaves, plus 16 sprigs
8 cups cold water
3 tablespoons Royal Cup Organic Breakfast Loose Tea
¼ cup plus 1 tablespoon fresh lemon juice
1 lemon, thinly sliced, for garnish
Ice cubes
Directions:
Prepare the Basic Simple Syrup as directed, adding 8 mint sprigs before bringing it to a boil. Remove from the heat and let cool slightly, about 10 minutes. Strain the mint syrup into a blender and puree with the 1 cup of mint leaves.
In a large saucepan, bring the cold water to a boil. Remove from the heat, add the tea and let steep for 5 minutes. Strain loose tea and let cool to room temperature. Transfer to a bowl and refrigerate until chilled.
Pour the tea into a pitcher, add the lemon juice and stir in 3/4 cup of the mint syrup, or more to taste; refrigerate the remaining syrup for later use. Serve in 8 tall glasses over ice, garnished with a mint sprig and a slice of lemon.
Recipe courtesy of Food & Wine.
Earl Grey Tea Par-Tea Cocktail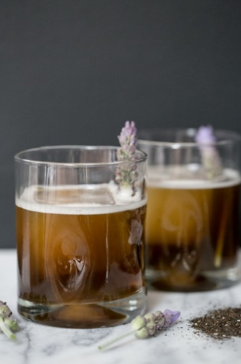 Ingredients:
4 cups brewed Royal Cup Earl Grey Tea
1¼ ounces gin
1¼ ounces honey simple syrup, (5 cups water, 1 cup honey in saucepan. Simmer until honey is dissolved)
1/4 ounce fresh-squeezed lemon juice
2 sprigs lavender
Directions:
Brew 4 cups Earl Grey tea. Store in the refrigerator to keep cold.
Make a batch of honey simple syrup to store in the fridge as well. 5 cups water, 1 cup honey.
Bring to a simmer until honey has dissolved.
Cool in the fridge.
Add all the above ingredients into a cocktail shaker, with 2 sprigs lavender and ice.
Shake several times. Then strain the cocktail into a glass over one large ice cube.
Garnish with lavender.
Recipe courtesy of Sugar and Charm.
Check out more amazing iced tea recipes on our blog. We hope you get brewing on these amazing recipes! Share your delicious drinks with us on Facebook, Instagram or Twitter!