Ever thought about steeping your tea without the pre-packaged bags? It may sound intimidating but have no fear! You don't have to spend a lot of money to steep the perfect cup of tea, you just need the basics – hot water, a cup, a tea pot or infuser, and delicious loose leaf tea. But if you are reading this blog, we know that you are probably searching for an option that will take the messiness and frustration out of the equation and let you kick back and enjoy your favorite leafy beverage. Our TEAZE Infuser offers just that. It's the perfect beginner-friendly instrument that will allow you to steep a tasty cup of tea in a matter of minutes.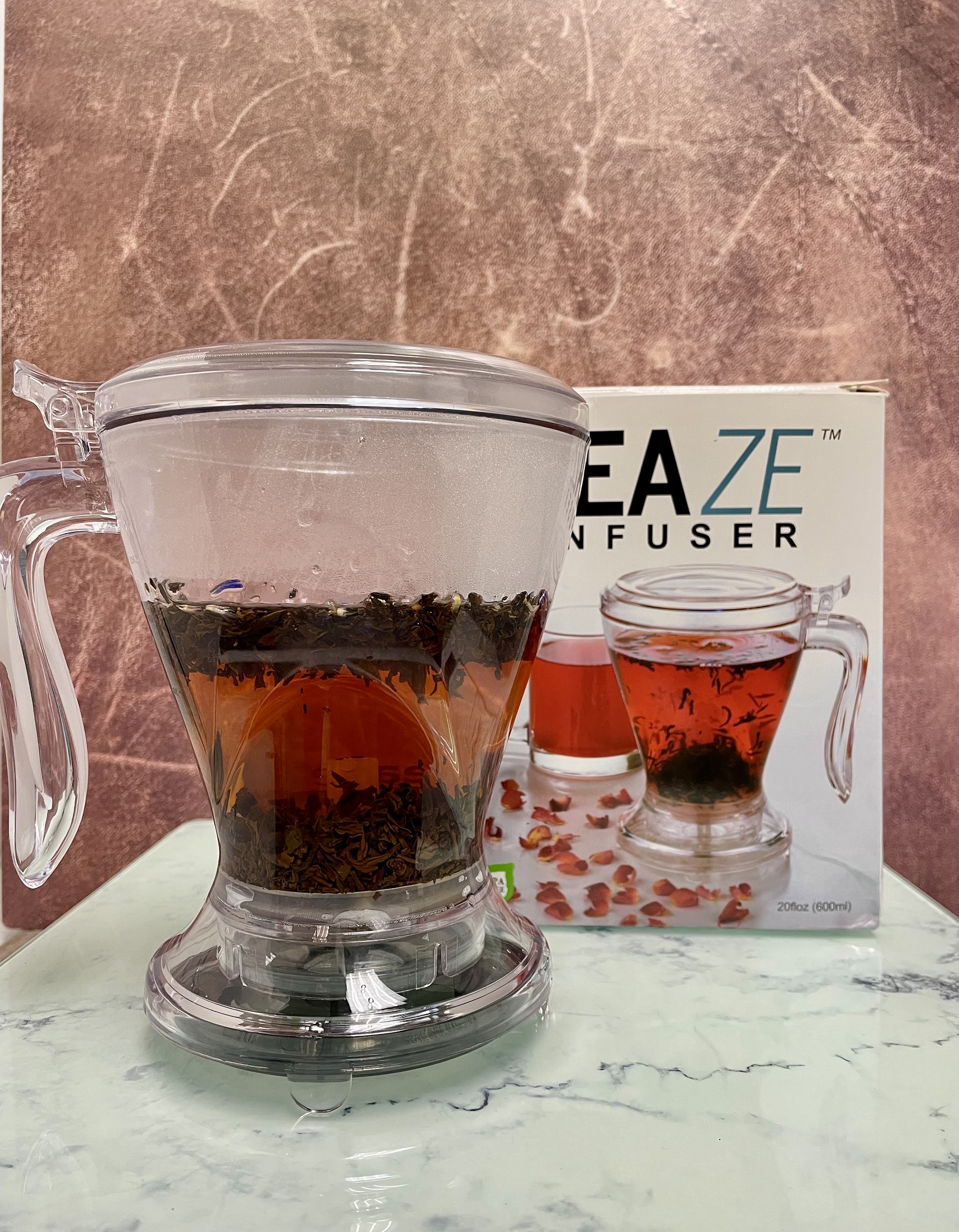 Instructions
Keep in mind the steeping process is dependent on the tea type, and as a result the water temperature, length of steeping, and quantity of leaves to water may vary. Refer to the chart below for a basic guide if you are new to this type of tea preparation.
Hot Tea
Add tea to the infuser. Use one teaspoon per 8oz (250mL) cup. Increase proportionally based on the size of your glass and desired taste.
We suggest adding our ROAR Organic Loose Leaf Tea!
Pour hot water into infuser and let it steep for 2-5 minutes depending on your preferred tea type. (Steep times listed in chart below!)
Grab your mug and place the infuser on top andallow it to automatically dispense through the base while straining your steeped tea leaves.
Add any creamer and/or sweetener you prefer and enjoy!
Iced Tea
Add your loose leaf tea to the infuser. Double the amount of tea for a stronger, richer flavor. Pro tip: This will also keep the ice from diluting the flavor too much.
Pour hot water into infuser and let it steep for 2-5 minutes depending on your preferred tea type.
Add ice to your glass.
Place the infuser on top of your glass for automatic dispensing through the base.
Sweeten as desired and enjoy.

Remember to keep the simplicity of a good cup of tea in mind. It doesn't take a lot of accessories to produce the perfect cup. Just focus on enjoying the process and you will become a pro in no time.
Share your DIY steeped cups with us on social media! We'd love to see how you drink your perfect cup. (And if you have any questions along the way, just message us!)
To stay updated with our latest news follow our social media accounts.