There's a-latte sweets out there, but today, we only have pies for the most timeless dessert! On National Pie Day, we're sharing a few of our favorite recipes to perk up your celebrations. Crust us, you're going to want to try these!
Chocolate-Coffee Pecan Pie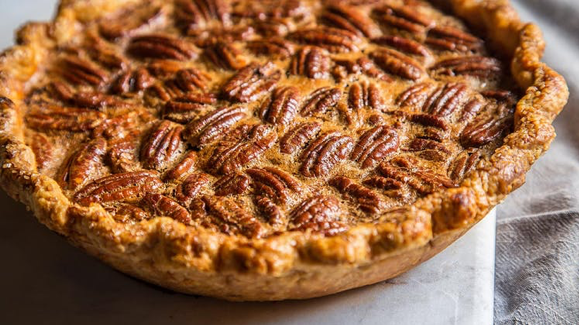 Ingredients
Homemade or store-bought piecrust, chilled and rolled into a 13-inch-diameter circle
1 egg, beaten with a pinch of salt
¾ cup packed light brown sugar
¾ cup light corn syrup
3 tablespoons unsalted butter, melted and cooled
3 large eggs
1 teaspoon very finely ground Royal Cup coffee beans (Click here to purchase)
1 teaspoon vanilla extract
1¼ teaspoons ground cinnamon
¾ teaspoon kosher salt
1½ cups pecan halves
½ cup bittersweet chocolate, coarsely chopped
Vanilla ice cream or whipped cream, for serving
Directions
Partially bake the crust: Preheat the oven to 425°. Tear a 12-inch piece of aluminum foil and cut the center into a circle. Bend the foil and round the edges, creating a 2-inch-wide ring, and set aside. Tear a piece of foil large enough to cover the surface and sides of the crust and set aside with 2½ to 3 cups of pie weights or dried beans.
2.Transfer the chilled, rolled-out pie dough to a pie plate and crimp the edges. Prick the crust with a fork to prevent puffing during baking and brush the edges with the beaten egg. Line the piecrust with prepared foil piece and pie weights, making sure they cover the inside edges. Bake the crust until the edges turn golden brown, 15 minutes. Remove the foil and pie weights. Cover the edges with the foil ring, return to the oven and bake until the crust dries out and the bottom and sides are golden brown, 10 minutes. Let cool completely.
3.While the pie crust is cooling, make the filling: Lower the oven to 400°F. In a large bowl, beat the brown sugar and corn syrup with an electric mixer on medium-high speed until smooth and creamy, about 2 minutes. Reduce the speed to low and add the butter, mixing to combine. Increase the speed to medium-high and add the eggs 1 at a time, beating until thick and smooth, 2 minutes more. Add the coffee grounds, vanilla, cinnamon, and salt and beat until combined.
4.Spread the chocolate across the bottom of the cooled crust, then top with the pecans. Pour the sugar mixture over the top, spreading it to completely coat the pecans. Bake the pie, checking the crust after 8 to 10 minutes, and covering it with aluminum foil when golden brown. Continue to bake until the top of the filling starts to get crispy and brown, 5 minutes more. Lower the oven temperature to 350°F and bake until the filling is puffed, and the center barely jiggles when tapped, another 20 to 25 minutes.
5.Transfer the pie to a wire rack and let cool completely, 1½ to 2 hours. Slice and serve with vanilla ice cream or whipped cream.
Recipe Courtesy of Tasting Table.
French Silk Pie with Chocolate-Coffee Crust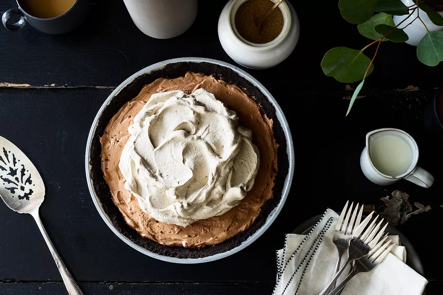 Ingredients:
Coffee Whipped Topping and Chocolate-Coffee Crust
1 cup heavy cream
¾ cup ground Royal Cup coffee beans (Click here to purchase)
3 tablespoons powdered sugar
2 cups crushed chocolate cookies
4 tablespoons unsalted butter, melted
French Silk Pie Filling
½ cup heavy cream
½ cup + 2 tablespoons semi-sweet chocolate
12 tablespoons (1 ½ sticks) unsalted butter, softened
¾ cup granulated sugar
1 teaspoon vanilla extract
4 large eggs
Directions:
For the whipped topping: Combine ½ cup coffee grounds and 1 cup heavy cream in a container with a lid (like a glass jar) and refrigerate to infuse the flavor—2 hours if you're impatient, or up to 12 if you've got time to burn.
Strain the cream, using cheesecloth or a super-fine mesh sieve, and discard the grounds. Add the powdered sugar to the cream, whip until soft peaks form, and refrigerate until needed.
Start making the crust. Heat the oven to 375° F.
In a medium bowl, mix the crushed cookie crumbs and the remaining ¼ cup coffee grounds, then drizzle in the melted butter and stir to coat everything in butter.
Dump the buttery crumbs into the pie plate and press to form an even crust. Place the pie plate in the freezer while you wait for the oven to finish heating up.
Bake the crust for 10 minutes, then set aside to cool.
For the filling: Whip the ½ cup heavy cream until soft peaks form, then cover and refrigerate the whipped cream until needed.
Melt the chocolate in a microwave or with a double boiler and set aside to cool slightly.
Add the butter and sugar to the bowl of a stand mixer fitted with the whisk attachment, and cream until light and fluffy, about 3 minutes.
Add in the cooled chocolate and vanilla and whisk again until combined.
Add the eggs, one at a time, beating for 5 minutes after each addition, and then fold in the reserved plain whipped cream.
Pour the filling into cooled crust, spread it out, then top with the coffee-flavored whipped cream. Refrigerate to set, at least 2 hours or overnight.
Recipe Courtesy of Food52.
Chocolate Coffee Meringue Pie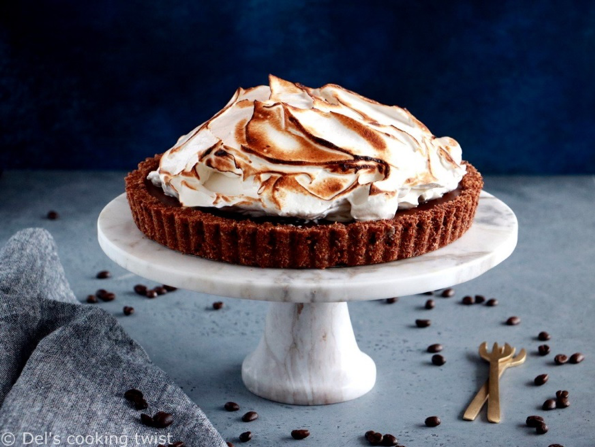 Ingredients:
Crust
¾ cup graham crackers, ground
1 stick unsalted butter, melted
2 tablespoons bittersweet chocolate, melted
Ganache
½ cup bittersweet chocolate, finely chopped
2 tablespoons unsalted butter, diced
1 ¼ heavy cream
2 tablespoons finely ground Royal Cup coffee beans (Click here to purchase)
Italian Meringue
1 cup water
1 cup caster sugar
4 egg whites
Directions:
Begin making the crust. Mix graham crackers crumbs, chocolate and butter in a small bowl. Press mixture onto bottom and up sides of a pie dish, previously greased. Chill in the refrigerator until firm, about 30 minutes.
Start the ganache. Place chocolate chopped into pea-size pieces in a large bowl together with diced butter.
Bring cream, coffee, and two tablespoons water to a boil in a small saucepan. Remove from heat, cover, and set aside for 5 minutes.
Drain the cream mixture through a fine-mesh sieve into the bowl with chocolate and butter, and discard solids. Stir until ganache is smooth.
Pour into the chilled crust, smooth out the top, and chill until set, about 1 hour.
Create the meringue. Pour water and sugar in a small saucepan and heat the syrup to 240°F without stirring.
When the temperature approaches 230° F, start beating the whites with an electric mixer or ideally in the bowl of a food processor. When they are foamy but not yet firm, very gradually stream the hot sugar syrup into your egg whites as they continue to whip on low to medium speed.
Once you've added all the syrup, increase the mixer speed to medium-high. Continue mixing until the meringue reaches stiff peaks.
Spoon the meringue over the ganache, swirling decoratively, and toast with a kitchen torch until golden brown in spots, if desired.
Recipe courtesy of Del's Cooking Twist.
Banana Coffee Pie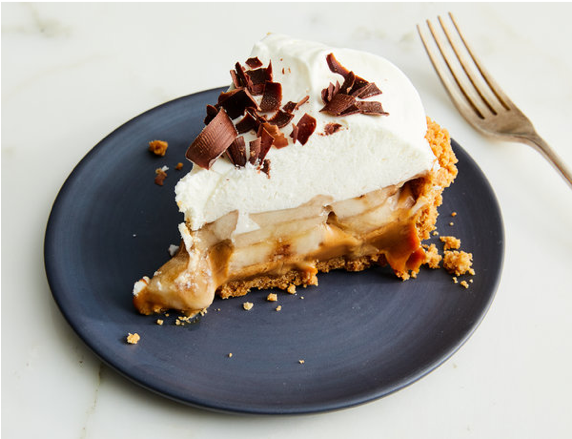 Ingredients:
1 ¼ cups graham cracker crumbs (about 10 whole graham crackers)
5 tablespoons unsalted butter, melted
⅓ cup granulated sugar
½ teaspoon kosher salt
2 ½ cups store-bought dulce de leche (about 20 ounces)
3 large bananas, peeled and sliced about 1/4-inch thick
1 ½ cups cold heavy cream
2 tablespoons granulated sugar
1 teaspoon vanilla extract
½ teaspoon very finely ground Royal Cup coffee beans (Click here to purchase)
Chocolate shavings or fresh coffee grounds, for garnish (optional)
Directions:
Heat the oven to 350° F. Make the crust: In a medium bowl, combine graham cracker crumbs, melted butter, sugar, and salt. Stir until fully incorporated and sandy. (When you pinch a bit of it between your fingers, it should hold together.) Transfer to a 9-inch pie plate. Using your fingers or a flat-bottomed cup, press the mixture into the pie plate and up the sides. Make sure it is well packed. Bake until set, 12 to 15 minutes. Let cool at room temperature for 30 minutes or cover with plastic wrap and refrigerate up to 2 days.
Spoon the dulce de leche into the pie crust and spread into an even layer. Pile on banana slices into a relatively even layer (they should overlap). Transfer the pie to the refrigerator while you make the whipped cream.
Make the whipped cream: Using a handheld mixer or stand mixer fitted with a whisk attachment, whip the heavy cream, sugar, vanilla extract, and coffee grounds on medium-high speed until firm peaks form, 1 to 2 minutes. Spread the whipped cream on top of the bananas, making sure to spread the whipped cream to the edge, totally covering the bananas (this will help prevent them from browning). Chill the pie, uncovered, for 2 hours and up to overnight.
To serve, sprinkle the pie with chocolate shavings or fresh coffee grounds, if desired. Store leftover pie in the refrigerator, covered, for up to 5 days.
Recipe courtesy of the New York Times.
Craving more sweets? Don't miss this delicious "S'mores" Coffee Pie recipe on our blog.   
We hope these sweet treats make your National Pie Day infinitely sweeter! Make sure to share your creations with us on Facebook, Twitter, and Instagram.