Today, our team at Royal Cup is taking a pause from the holiday hustle to appreciate one of our favorite drinks – hot cocoa! While there's a-latte things we love about the winter season, a warm cup of chocolate just about tops the list. Step up your hot cocoa game and impress your friends and family with these five recipes!
Vanilla Mocha Hot Cocoa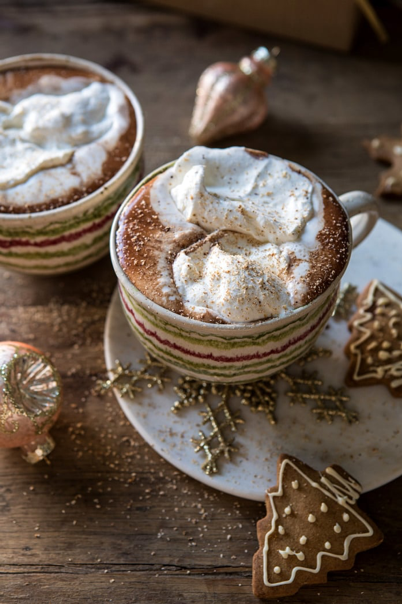 Ingredients:
4 ½ cups whole milk (or nut milk)
⅓ cup real maple syrup
¼ cup unsweetened cocoa powder
¾ cup semi-sweet or dark chocolate, chopped
1 tablespoon vanilla extract
1 teaspoon very finely ground Royal Cup coffee (Click here to purchase)
1 pinch flaky salt
Whipped cream, for serving
Grated nutmeg or cinnamon (optional)
Directions:
Add the milk, maple syrup, cocoa powder, chocolate, vanilla, coffee powder, and pinch of salt to a large pot.
Place the pot over medium low heat until the milk is scalding, but not boiling. Be sure to stir the pot often to make sure nothing is sticking to the bottom and burning.
Once the hot cocoa is steaming, ladle into mugs and dollop with whipped cream. Drink and enjoy!
Recipe courtesy of Half Baked Harvest.
Kit Kat Hot Cocoa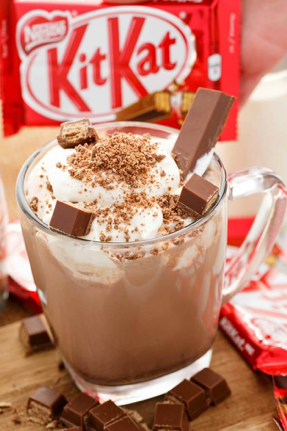 Ingredients:
2 Kit Kat chocolate bars
1 tablespoon unsweetened cocoa powder
1 tablespoon sugar
1 ¾ cups milk
¼ cup heavy whipping cream
2 tablespoons boiling water
¼ teaspoon vanilla
Pinch of salt
Homemade whipped cream
Directions:
Snap Kit Kat into 8 sticks. Reserve 2 sticks for garnish. Place the rest in a food processor and process until fine crumbs form.
In a small saucepan, add 3 tablespoons ground Kit Kat, cocoa powder, sugar, and salt.
Pour in boiling water and heat over medium, allowing the mixture to come together into a smooth paste, stirring frequently.
Add milk and cream. Stir and raise heat, bringing it to just before a boil.
When hot, remove from heat and add vanilla. Divide into two cups and top with whipped cream.
Sprinkle with additional Kit Kat crumbs and sticks.
Recipe courtesy of The Cookie Writer.
Peppermint Mocha Hot Cocoa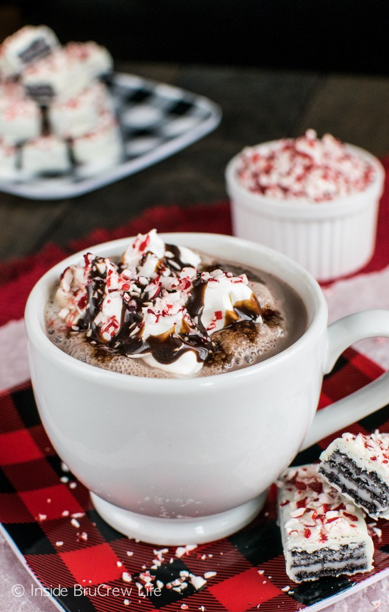 Ingredients:
1 cup milk, divided
2 tablespoons cocoa powder (regular or dark)
2 tablespoons crushed peppermint candy canes and extra for garnish
½ cup strong brewed Royal Cup coffee (Click here to purchase)
Whipped cream, optional
Chocolate syrup, optional
Directions:
Whisk together 2 tablespoons milk, cocoa powder, and 2 tablespoons candy cane pieces in a small saucepan. Heat over low-medium heat until melted.
Whisk in the rest of the milk and heat until hot.
Stir in the strong coffee. Pour into 1 large mug or 2 small mugs.
Top with whipped cream, syrup, and extra candy pieces if desired. Serve immediately.
Recipe courtesy of Inside Bru Crew Life.
Melted Hot Cocoa with Sea Salt Whipped Cream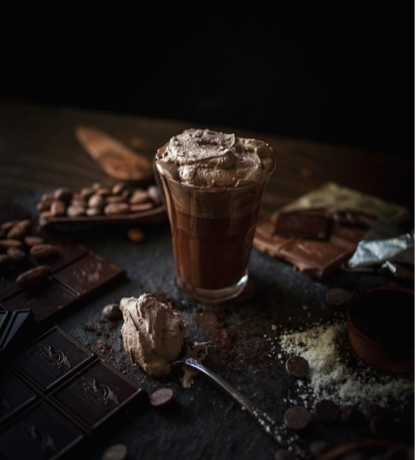 Ingredients:
Sea Salt Chocolate Whipped Cream
1 cup heavy whipping cream
1 tablespoon sugar
3 tablespoons cocoa powder
¾ teaspoon sea salt plus extra for sprinkling
Melted Hot Cocoa
8 squares (4 ounces) dark 100% cocoa baker's chocolate
2 squares (1 ounce) semi-sweet baker's chocolate
2-4 teaspoons honey
¾ cup whole milk at room temperature
Directions:
Begin by preparing the sea salt whipped cream. Beat the cream and sugar in an electric mixer fitted with the whisk attachment at medium high speed until the cream holds a very soft peak. Gently whisk in the sea salt and cocoa powder until incorporated. Cover and set aside.
To make the hot cocoa, melt down the chocolate pieces in the top of a double boiler, stirring constantly. Add the honey and milk and continue stirring until it is one fluid mixture and becomes very warm. Evenly distribute the cocoa between two serving glasses and top with the whipped cream and a pinch of sea salt for garnish. Serve immediately.
Recipe courtesy of Adventures in Cooking.
Cookies & Cream Hot Cocoa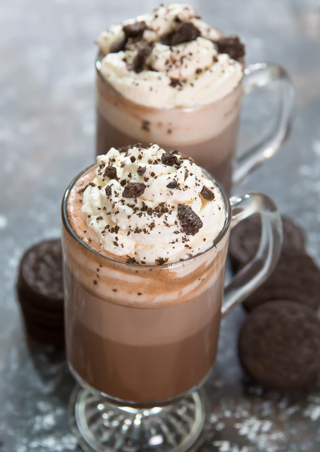 Ingredients:
2 cups nonfat milk
¼ cup unsweetened cocoa powder
¼ cup granulated white sugar
2 finely crushed Oreos
Whipped cream (optional)
Directions:
Add milk, cocoa powder, and sugar to a medium saucepan and bring to medium heat.
Stir with a whisk until hot cocoa is smooth and uniform in color. Add in Oreos and stir until mostly dissolved.
Pour into a glass and top with whipped cream, if desired.
Recipe courtesy of Kirbie Cravings.
Craving more delicious recipes? This Espresso Hot Chocolate will leave you frappe and satisfied!
We hope you spend National Cocoa Day bundled up by a fire, sipping on a sweet treat! Don't forget to share your creations with us on Facebook, Instagram, or Twitter!