Today is National Dog Day and our team at Royal Cup wanted to paws to celebrate our beloved puppers the BEST way we know how - puppuccino style! Whether you work in a paw-fice, a re-tail store, or at a ROOF-ing company, our team believes both you and your fur-buddy deserve a brew or two. In honor of this special occasion, we've dug up some of the best recipes to create a tasty treat fur your favorite four-legged friend. Let's raise a toast to those who make life awesome! Don't stop retrievin'.
RAISE THE WOOF
 A Dairy-Free Puppuccino, Coconut Whipped Cream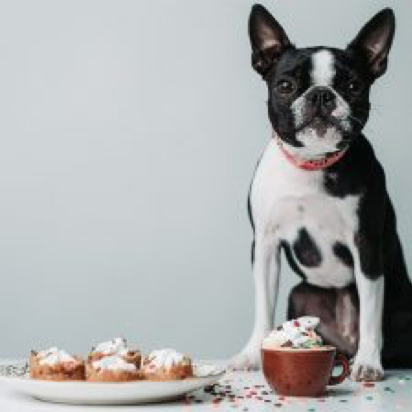 Ingredients:
Directions:
Pour one entire can of coconut milk into a bowl (both liquid and solid parts).
Mix thoroughly with a fork or small whisk until the solids are incorporated into the liquids. The results should be frothy.
Chill overnight, or until quite cold, so that your cream will hold its shape.
When you're ready to whip, give the coconut another quick stir for best results.
Pour coconut milk into the canister of your whipped cream maker* and close securely.
Add whipped cream charger and shake the coconut milk gently.
Spray your coconut whipped cream onto your puppy pastries, puppuccinos, or right into your dog's mouth (most entertaining option, clearly)!
No whipped cream maker? Beat the chilled coconut mixture with a balloon whisk (or in your mixer) until stiff peaks form.
NOTES
*Drinkable coconut milk is too thin for this recipe. You need the canned product with its thick, fatty goodness to stabilize the cream.
* No whipped cream maker? Beat the chilled coconut mixture with a balloon whisk (or in your mixer) until stiff peaks form.
Recipe courtesy of Rover.
HOT DOG
A Dog-Friendly Hot Chocolate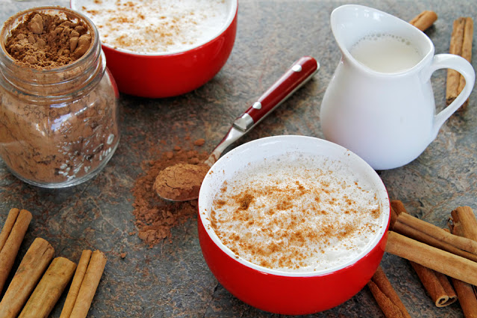 Ingredients:
Directions:
For a puppuccino-style hot chocolate (aka "hot dogolate"), mix milk, water, and carob powder together and top it with a dollop of froth. For a light and simple dog-friendly "fluffy," froth up the milk and serve it with a tasty sprinkle of cinnamon and/or carob powder.
Recipe courtesy of Dalmatian Daily.
DOGGONE SPICY
Puppy Spice Latte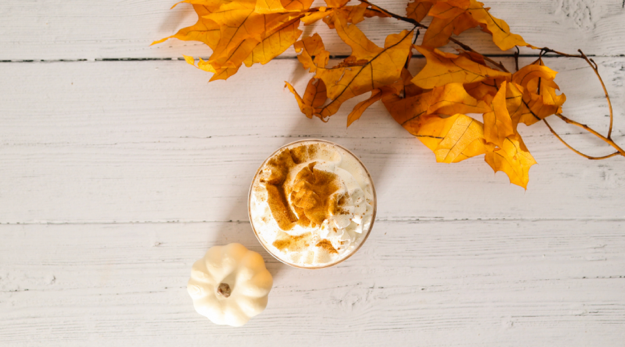 Ingredients:
1 cup pumpkin puree
¾ cup water
½ cup crushed ice
3 tablespoons coconut meat
1 heaping tablespoon peanut butter
¼ teaspoon pumpkin pie spice
Dog treats to top
Supplies:
Cocktail shaker
Measuring cups
Measuring spoons
Serving cup
Coconut whipped cream:
1 can coconut cream or full-fat coconut milk, refrigerated overnight
Directions:
Add the pumpkin, chicken broth, and ice to the shaker; shake well. 
Add the yogurt to the shaker; shake well. 
Pour into a cup (a dog bowl will also do).
Top it off with whipped cream and cinnamon. 
Recipe courtesy of Pet Naturals.
YOU ARE FUR-BULOUS
Puppuccino Dog Scarf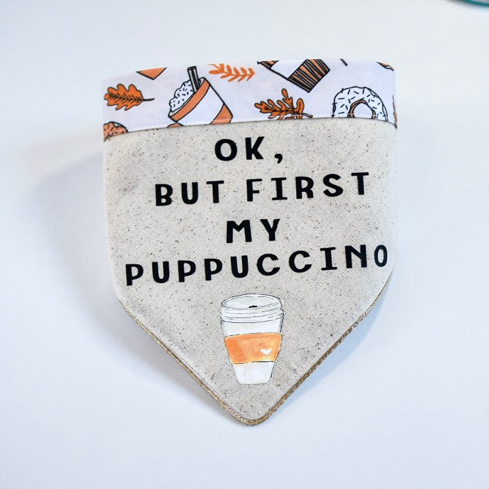 Last but certainly not least, howl about giving your fur-ever friend a fresh look to pair with their puppuccinos? We couldn't imagine a better way to perk things up!
For purchase at etsy.com.
We hope you celebrate National Dog Day with us by trying these fluffy treats. Bark at us with your creations (and pupper pictures) on Facebook, Instagram or Twitter!