Today is National Martini Day, and our team at Royal Cup has a few tricks up our sleeve to help perk up your cocktail game! Impress your friends and family with these decadent twists on a classic beverage. 
Coffee & Cream Martini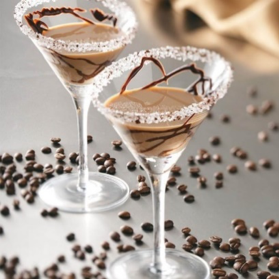 Ingredients:
2 tablespoons coarse sugar
1 teaspoon finely ground Royal Cup coffee (Click here to purchase)
Ice cubes
1 ½ ounces vodka
1 ½ ounces Kahlúa
1 ½ ounces Irish cream liqueur
Chocolate syrup, optional
Directions:
Sprinkle sugar and coffee on a plate. Moisten the rim of a cocktail glass with water; hold glass upside down and dip rim into sugar mixture.
Fill a mixing glass or tumbler three-fourths full of ice. Add the vodka, and liqueur; stir until condensation forms on outside of glass.
Drizzle chocolate syrup on the inside of prepared martini glass if desired. Strain vodka mixture into glass; serve immediately.
Recipe courtesy of Taste of Home.
Coffee Buzz Martini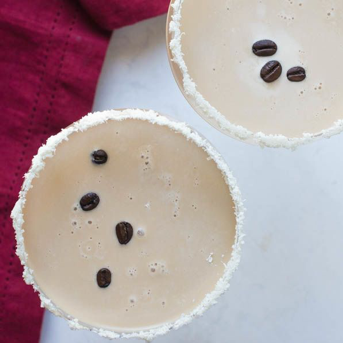 Ingredients:
2 ounces vodka
1 ½ ounces Baileys Irish cream  liqueur
1 ½ ounces  Kahlúa coffee  liqueur
1-ounce simple syrup
1-ounce half and half
½ cup strong brewed Royal Cup coffee cooled to room temperature (Click here to purchase)
Directions:
Combine all ingredients in a cocktail shaker with ice.  Secure the lid and shake well until chilled.  Pour into the prepared coupe glasses.  Garnish with finely grated white chocolate and coffee beans (optional.)
Recipe courtesy of Garlic and Zest.
Cold Brew Martini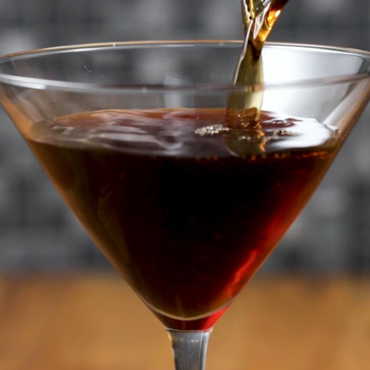 Ingredients:
Cold Brew Concentrate
Martini
1 cup ice
3 tablespoons vodka
3 tablespoons coffee-flavored liqueur
2 tablespoons cold brew coffee, concentrate
Directions:
Make the cold brew concentrate: In a large glass jar, mix the ground coffee with the water. Cover and refrigerate for 12 hours.
Strain the cold brew through a fine-mesh sieve into a clean jar. The concentrate will keep in the refrigerator for up to 1 week.
In a cocktail shaker, combine the ice, vodka, coffee-flavored liqueur, and cold brew concentrate. Shake for 15–20 seconds, until very cold. Strain into a martini glass.
Enjoy!
Recipe courtesy of Tasty.
Find another version here!
Five Ingredient Chocolate Caramel Espresso Martini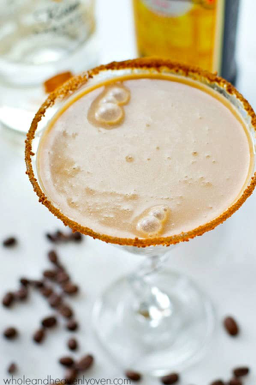 Ingredients:
2 ounces caramel-flavored vodka
2 ounces  Kahlúa liqueur
2 ounces Royal Cup espresso (Click here to purchase)
2 ounces heavy whipping cream
Ice cubes for chilling
2 tablespoons coconut sugar or brown sugar
Directions:
In a small measuring glass, mix vodka, Kahlúa, espresso, and cream until combined. Place in a shaker with ice cubes and shake until mixture is completely chilled. Discard ice cubes.
Dip the rim of a martini glass in water and coat rim in sugar. Pour chilled espresso mixture into glasses and enjoy immediately!
Recipe courtesy of Whole and Heavenly Oven.  
The Tiramisu Martini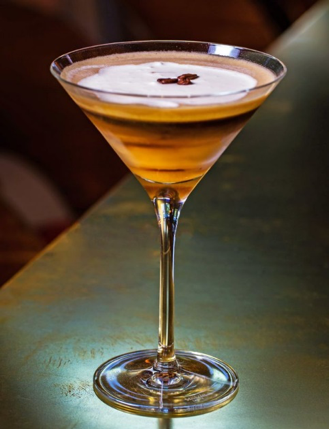 Ingredients:
30ml Avion espresso tequila
20ml  Kahlúa coffee liqueur
30ml Royal Cup (Click here to purchase)
10ml Baileys Irish cream liqueur
Whipped cream
Directions:
Shake tequila,  Kahlúa and chilled espresso, and gently strain into a chilled martini glass.
Using a bar spoon, slowly pour the baileys into the glass, which will create a layer at the bottom of the martini.
From a squeegee bottle, pour over a little cream on top (to float the cream) and garnish with coffee beans. Drink and enjoy.
Recipe courtesy of Huffington Post.
We hope these recipes keep you perky and satisfied on National Martini Day! Don't forget to share your delicious cocktails with us on Facebook, Instagram, or Twitter.