Have you been noticing cold brew popping up on menus lately? Or maybe a limited time offer of a delicious, flavored latte in your local coffee shop? All these decisions are made based on DATA. The beverage industry goes through trends like any other industry. And staying in touch with these trends allows our team to offer beverage solutions and innovations that cater to consumers' ever-evolving tastes. Check out some of the top insights from our latest Quarterly Trends Report that are setting the tone for the rest of 2021:
The Sustainability Spotlight Shines Brightest
Fair Trade USA®, USDA Certified Organic, and Rainforest Alliance Certified™ coffees and teas have been making big waves in the beverage industry the last few years, and it doesn't seem to be changing anytime soon. From 2017-2019, production ramped up and Rainforest Alliance Certified™ coffee sales at origin increased 36%. And consumers continue showing their support for the sustainability of their beverages through purchases of these certified products. In 2020, 38% of consumers preferred coffee that was Fair Trade USA®, 36% preferred organic coffee; and 36% preferred coffee that was RFA certified™. Wow.
It's no wonder these certified beverages are on the rise. Fair Trade USA®, USDA Organic, and Rainforest Alliance collectively cover all sides of sustaining the coffee and tea production cycle, including premiums invested back into the farms; cycling of resources to promote biodiversity; and safer, cleaner work environments and health care for farmers. So, you can feel good twice about enjoying a sustainable coffee or tea (once because it's just so good, and then also because you're DOING some good too).
Did you know that Royal Cup was one of the first coffee roasters to join the Rainforest Alliance in 2003? Yep. We also offer several Rainforest Alliance Certified™ coffees, a complete line of ROAR organic hot teas, and a variety of Fair Trade USA® coffees throughout our portfolio. (If you're up for a challenge, try them all and let us know your favorite!)  
Single Origin Coffee is a Top Consumer Priority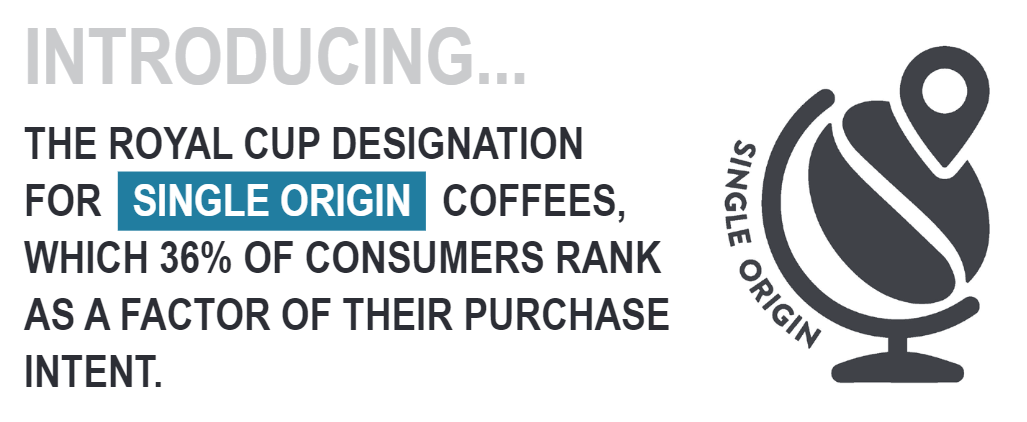 More than one-third of coffee consumers say that "single origin" is a factor in their purchasing decision. Not just a trendy call-out, single origin coffees can play a role in the sustainable coffee industry.
Single origin coffees (you guessed it) come from a single region or sometimes even a single crop. This classification allows a greater level of traceability and transparency of the beans, and sometimes you can get so granular as to find the name of the estate where your coffee is grown, maybe even the exact plot. And since location is everything when it comes to flavor, the unique characteristics of an area will impact how your cup o' joe tastes, and single origin is going to allow you to cherry pick (pun intended?) these notes.
This year, we've introduced an original single origin icon to proudly identify which coffees fall within this designation. Look for it on our packaging!
Gen Z is Putting the "G" in Gourmet
Three things Gen Z is loving these days: choreographed dances, technology, and…gourmet coffee. In the past year, half of 18–24-year-olds reported consuming at least one gourmet coffee beverage a week. Looking to customize their beverages, 36% additionally used flavored creamers, and 17% turned to flavored syrups for that individual flare. Customization is key with this demographic, and coffee has so much room to play in this space.
While younger consumers may be hot for gourmet coffees, they're reaching for the iced versions, most notably in the afternoons. Gen Z are also big fans of dessert- like drinks (in case the flavored creamers and syrups didn't give it away). An afternoon snickerdoodle iced latte or caramel crunch macchiato is going to be right up their alley. Industry Tip: Investing in a line of customizable cold coffees can amp up afternoon sales and help make up for the declining breakfast traffic we've been seeing lately.
Mocktails are Jet Fuel for Drink Menus
Gen Z is also the generation trading alcohol for sparkling water. Mocktails are having their moment in the sun, growing 35% in popularity on menus. Recipe Tip: Loose teas make an excellent concentrate for mocktails, offering less sugar, no alcohol, and all the flavor for  you need for a standout drink.
Feel like a beverage industry insider yet? Get even more scoop when you sign up for our monthly newsletter! You'll be the first to hear about our new product lines and recipe ideas to keep your coffee and tea game fresh.
Data Sources: Mintel, NPD, NCDT, Dataessential