It's no secret that Valentine's Day can lead to overpriced restaurant menus and crazy waits that leave you and your loved one spending more money than quality time! Luckily, the cupids at Royal Cup are aiming their arrow at a new take on the perfect date.
Whether it's your significant other, galentine, or family member, there's no better way to show your loved one how much you care than creating a day filled with decadent, home-cooked meals inspired by Royal Cup brews. From start to finish, we're sharing our secrets to a brew-tiful Valentine's Day!
 
Breakfast in Bed
Nothing beats waking up to a fresh-cooked meal…especially when carbs are involved! These delicious breakfast recipes are the perfect way to start off your special day. But of course, don't forget to pair these sweet treats with a warm mug of your loved one's favorite Royal Cup pick-me-up!
"Falling for You" French Toast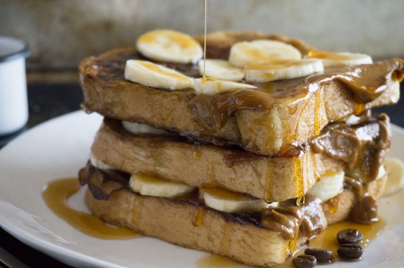 Ingredients:
Coffee Peanut Butter Smear
French Toast
6 eggs
1/2 teaspoon cinnamon
1/8 teaspoon freshly grated nutmeg
Pinch of salt
1/4 teaspoon vanilla extract
1½ cups milk of choice
1/2 cup strongly brewed Royal Cup coffee; cooled (Click here to purchase)
Unsalted butter to butter the skillet
12 slices white bread cut 1/2 inch thick
Sliced banana, for topping
Maple syrup, for drizzling
Directions:
Prepare the coffee or espresso. Combine with the milk and set aside to cool.
Prepare the peanut butter smear. Mix dry peanut butter powder with the coffee. (you can do this while the coffee is warm). Mix to desired thickness. Cover and set aside.
To begin the French toast, lightly toast each side of the bread at 200 F. Cook for 5 minutes per side. Set aside.
In a large mixing bowl, whisk together eggs, sugar, salt, cinnamon, nutmeg, and vanilla until well combined. Add the milk/coffee mixture and whisk together.
Heat 2 tablespoons of butter over medium heat on your skillet or griddle.
Dip each slice of bread into egg mixture, flipping it around until it's fully soaked.
Place soaked bread on the skillet and cook until browned on bottom side, about 3 minutes.
While the top sides are cooking, sprinkle a dash of sugar on each piece of toast. When ready to flip, cook the other side for another 3 minutes until browned.
Repeat with all slices of bread.
Top with a smear of peanut/coffee mixture, sliced bananas, and a drizzle of maple syrup.
Recipe courtesy of Food52.
"I Love You Berry Much" Breakfast Oats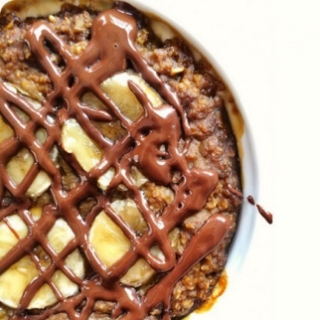 Ingredients:
1/2 cup old fashioned oats
6 tablespoons coffee (Click here to purchase)
One-half banana, mashed
1 teaspoon vanilla extract
1/2 teaspoon baking powder
Pinch of salt
2 tablespoons chocolate peanut butter (or any type of peanut butter, coconut butter or almond butter)
raspberry jam to taste
chocolate syrup or a handful of chocolate morsels, melted
Directions:
Preheat the oven to 350 F. In a small cereal bowl, mix plain oats and coffee. Let soak for 5 minutes. Meanwhile mash ¼ of banana, 2 tablespoons peanut butter and raspberry jam. Put in the freezer for about 2 minutes to chill.
Add the other ¼ of a banana mashed, vanilla extract, baking powder, and salt to oatmeal mixture. Mix well. In a small ramekin, spoon half of the oatmeal mixture. Remove peanut butter mixture from freezer and spoon into the middle of the ramekin, then top with remaining oatmeal mixture.
Place a few banana slices atop your oatmeal and bake in the oven for 20 minutes. Use a chocolate syrup or melt a handful of chocolate morsels in the microwave and drizzle atop your oatmeal. Enjoy!
Recipe Courtesy of Honest Cooking.
 
I Love You A-Latté Lunch
After a lazy morning around the house, treat your loved one to a delicious and easy lunch spread! We're sharing our favorite recipes that spotlight the star of the show, our coffee-glazed maple bacon strips.  
"Don't Go Bacon My Heart" BLT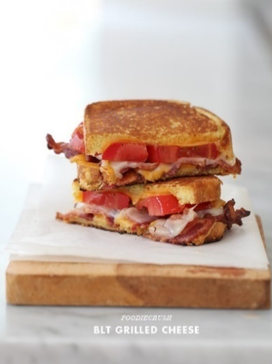 Ingredients:
2 slices egg bread
4 slices cheddar cheese
2 slices swiss cheese
4 strips coffee-glazed maple bacon
2 slices tomato
1 tablespoon butter
Directions:
Spread butter on one side of each slice of bread, then stack buttered sides together. Layer cheddar cheese, bacon strips, swiss cheese, and tomato slices on the slices of bread. Place bread buttered side down in a fry pan over medium-high heat. Cover with lid and let cook for 3-4 minutes or until golden.
Reduce heat to medium and flip sandwich to other side and cook for 2-3 minutes or until bread is toasty golden and cheese has melted. The second side will cook faster than the first, so watch carefully.
Cut in half and enjoy!
Recipe courtesy of Foodie Crush.
"You're the Apple of My Eye" Salad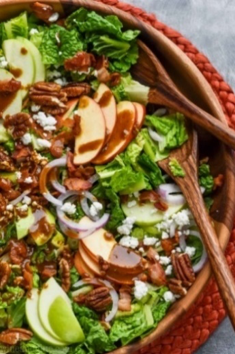 Ingredients:
Salad
3 heads Romain lettuce chopped
1 gala apple sliced thin
1 green apple sliced thin
1/2 red onion sliced thin
1/2 cup crumbled goat cheese
1/2 cup pecans
6 strips coffee-glazed maple bacon (diced)
Balsamic dressing
1/4 cup balsamic vinegar
2 tablespoons mustard
1/2 cup olive oil
2 cloves minced garlic
3 teaspoons hot sauce
2 teaspoons honey
1/2 teaspoon salt
1/2 teaspoon paprika
1/2 teaspoon black pepper
1/2 teaspoon onion powder
Directions:
Combine all the dressing ingredients in a mason jar and shake well, until fully combined.  Serve on the side.
Toss all salad ingredients together and serve.
Recipe courtesy of Wine and Glue.
Decadent Dinner
Plan an afternoon full of your favorite activities and wow your date with a decadent home-cooked meal to close out the day! Nothing says romance quite like an n elegant steak dinner. Break out the wine and candles if that's your vibe and enjoy these delicious recipes with your special someone.  
"Our Love is Rare" Coffee-Crusted Steak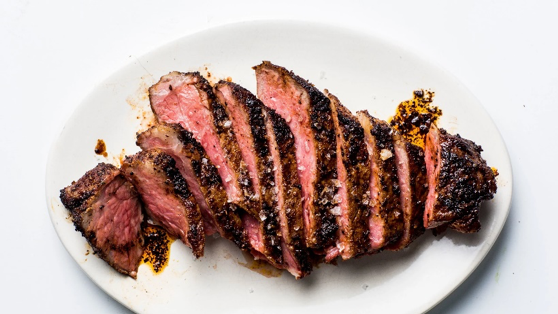 Ingredients:
2 tablespoons ancho chile powder
2 tablespoons finely ground Royal Cup coffee beans (Click here to purchase)
5 teaspoons dark brown sugar
1 tablespoon hot smoked Spanish paprika
1½ teaspoons dried oregano
1½ teaspoons freshly ground black pepper
1½ teaspoons ground coriander
1½ teaspoons mustard powder
1 teaspoon chile de árbol powder or ¾ teaspoon finely ground red pepper flakes
1 teaspoon ground ginger
1 tablespoon kosher salt, plus more
2 16-ounce boneless New York strip steaks (about 1 inch thick)
2 tablespoons vegetable oil
Directions:
Mix ancho chile powder, ground coffee, brown sugar, paprika, dried oregano, pepper, coriander, mustard, chile de árbol powder, ginger, and 1 tablespoon salt in a small bowl.
Season steaks with salt, then coat with 5 teaspoons spice rub per steak (save any extra rub for your next steak). 
Place on a wire rack set inside a rimmed baking sheet and chill uncovered 3–6 hours.
Let steaks sit 1 hour to come to room temperature, which will help them cook quickly and more evenly.
Preheat oven to 400 F. Heat oil in a large skillet over medium-high. Cook steaks 2 minutes or so on each side to create a nice crust.
Transfer skillet to oven; cook steaks until an instant-read thermometer inserted into the thickest part registers 120 F for medium-rare, about 5 minutes.
Transfer steaks to a cutting board; let rest 10 minutes. Slice ½" thick.
Recipe Courtesy of BonAppetit.
"Rooting for Love" Roasted Potatoes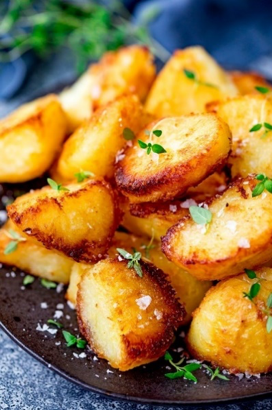 Ingredients:
2 1/4 lbs (1kg) floury potatoes
1/2 cup vegetable oil or duck fat
1 tsp Maldon salt
1 tbsp fresh thyme leaves
Directions:
Preheat the oven to 425 F.
Peel the potatoes and chop into medium squares (approximately 2 inches/5cm across).
Place in a pan and cover with cold water. Place on the hob on a high heat and bring to the boil, then turn down the heat and simmer for 8-9 minutes - until softened at the edges.
Meanwhile, place the lard or (goose fat if using) in a large roasting tin and place in the oven to for 10 minutes until shimmering hot.
Drain the potatoes in a colander. Give them a good shake to really roughen up the edges. Don't worry if a few break apart and they look overly fluffy. The fluffier they are, the better they'll absorb the fat and the crispier they'll be.
Carefully place the potatoes - using tongs - in the baking tin with the hot fat. Turn them over once to coat in the fat and then place in the oven.
Cook for 30-35 minutes, turning once or twice in the last 15 minutes of cooking, until golden brown and crispy.
Remove from the roasting tin and serve topped with a sprinkling of Maldon salt and some fresh thyme leaves.
Recipe courtesy of Kitchen Sanctuary.
Save the Best for Last – Dreamy Dessert for Two
Name a love language more universal than chocolate… we didn't think so! Chocolate has been a Valentine's classic since the start, but this year we're mixing it up with these fresh takes on chocolatey sweets for your sweet!  
"Wine Not Take a Chance on Love" Latté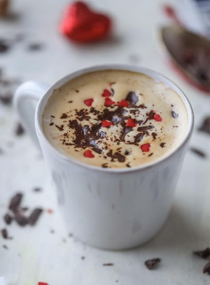 Ingredients:
Latté
1 to 2 tablespoons cabernet syrup
1 to 2 teaspoons chocolate syrup
2 shots espresso (Click here to purchase)
1/4 cup steamed milk
chopped chocolate for topping
Cabernet Syrup
3/4 cup cabernet sauvignon or your favorite red wine!
1 1/2 cups sugar
Directions:
To make the cabernet syrup, combine wine and sugar in a saucepan and heat over medium heat. Whisk constantly until the sugar dissolves and bring the mixture to a simmer. Turn off the heat and let it cool completely. This keeps great in the fridge!
Add 1 to 2 tablespoons of the cabernet syrup into the bottom of a mug. Add preferred amount of chocolate syrup. Pour two shots of hot espresso over chocolate and stir. Add steamed milk on top. Sprinkle with chopped chocolate.
Recipe courtesy of HowSweetTreats.
"Espresso Your Love" Dark Chocolate Pudding Cake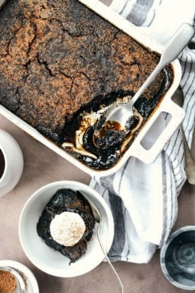 Ingredients:
1 cup unbleached all-purpose flour
3/4 cup granulated sugar
1/4 cup + 2 tablespoons unsweetened dark cocoa powder  Hershey's Special Dark, preferred)
2 teaspoons baking powder
1/2 teaspoon kosher salt
1 cup whole milk
2 tablespoons melted butter
1 teaspoon pure vanilla extract
3/4 cup dark brown sugar
4 tablespoons finely ground Royal Cup coffee beans (Click here to purchase)
1 cup boiling water
regular or dark unsweetened cocoa powder, for dusting cake
homemade whipped cream
Directions:
Preheat your oven to 350 F.
In a medium bowl whisk together the flour, granulated sugar, dark cocoa powder, baking powder and salt.
Stir in the milk, butter and vanilla until just combined.
Pour the cake batter into an un-greased 8x11 baking dish and use a spatula to spread evenly.
Add the dark brown sugar and espresso powder into a bowl and pour in 1 cup of boiling water. Stir until the sugar has dissolved and pour directly over the cake batter. Do not stir.
Carefully slide the baking dish onto the middle rack of your preheated oven and bake for 40 minutes. Rotating the pan halfway during baking.
Let cool slightly before, dusting with cocoa powder. Spoon the warm cake into bowls and serving with whipped cream - try serving the pudding cake with scoops of frozen whipped cream!
Recipe courtesy of Simply Scratch.
Don't forget to close the night out with a drink! Check out this Espresso Mudslide recipe on our blog.
We hope you have the most brew-tiful Valentine's Day with help from these recipes! At the end of the day, this holiday isn't about where you eat, or what's on the menu, but the special people you choose to share it with. Don't forget to show off your festive creations on Facebook, Instagram, or Twitter!