Any sous vide fans out there?!! If you don't know what we're talking about…. get ready to up your cooking game! Sous vide, (pronounced sue-veed) which means "under vacuum" in French, refers to the process of vacuum-sealing food in a bag, then cooking it by water bath to a precise temperature. 
Sous vide has been on the food scene for decades but has recently reemerged as a growing trend…and our team at Royal Cup is HERE FOR IT! We're sharing our obsession with a few recipes featuring our favorite pick-me-up (is anyone surprised?!). 
Shake up your summer grill outs with these recipes and "sous" may be surprised with the amazing results!  
The Main Act 
Coffee Crusted Steak with Butter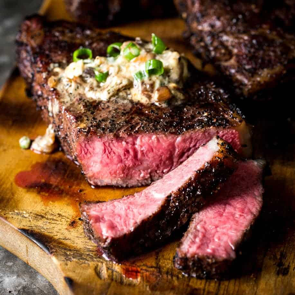 Ingredients: 
Steak:
3 prime cut steaks
1 tablespoon freshly ground Royal Cup coffee (Click here to purchase)
1 teaspoon freshly ground black pepper
1/4 cup brown sugar
1 teaspoon rosemary blend
Directions:
In a small bowl, combine coffee and remaining ingredients. Rub on all sides of steaks and let them sit at room temperature for 30 minutes.
Place steaks in a one-gallon resealable plastic bag. Fill a large container with about 2 gallons of water.
Submerge bag of steaks in water just below the slide lock. Seal bag, removing as much air as possible.
Transfer bag of steaks to a plate and set aside at room temperature while preparing sous vide cooker.
Follow instructions for cooker and set temperature to 264° F.
When water is set, place bag of steaks in the water. Cook for 1 hour.
Remove steaks from bag and pat dry with paper towels. Transfer to a clean plate.
Sear steaks on a very hot grill for 1 minute. Turn steaks over and grill and additional 1 minute. Transfer to plates and top with a dollop of your favorite flavored butter. Serve. 
Recipe courtesy of Little Rusted Ladle.  
 
Sous Vide Sweetheart Pork Tenderloin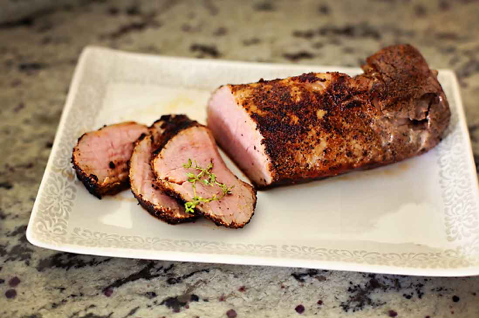 Ingredients: 
1 tablespoon decaf Royal Cup coffee grounds (Click here to purchase)
1 teaspoon cayenne pepper
1 ½ teaspoons brown sugar 
1 teaspoon cinnamon
1 tablespoon cumin
1 teaspoon garlic powder
1 teaspoon paprika (preferably smoked)
1 teaspoon salt
½ teaspoon black pepper
5 sprigs fresh thyme 
1 tablespoon vegetable or canola oil 
Directions
Set your sous vide water bath temperature to 135° F.
Rub all sides of pork down with seasoning mixture.
Place pork in a Ziploc bag with the fresh thyme.
When the water reaches temperature, lower the bag of meat into the water.
When the meat is fully submerged, seal the top of the bag.
Clip the bag in place if needed.
Make sure the meat stays fully submerged while cooking.
Cook for 65 minutes.
When the pork is ready, remove from water and discard bag and thyme.
Pat pork slightly dry with paper towels.
Sear all sides of pork in a hot pan with the oil.
Let rest three minutes, then slice.
Enjoy!
Recipe courtesy of Tangled With Taste. 
The Perfect Sidekicks 
Seared Brussel Sprouts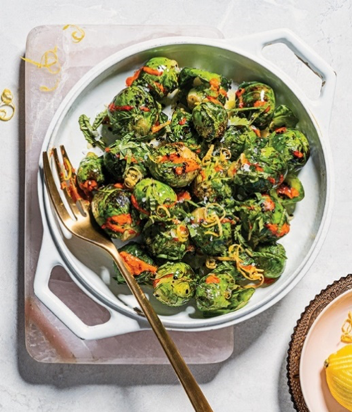 Ingredients: 
2 pounds brussels sprouts, washed and trimmed, divided
1 ¾ teaspoons kosher salt, divided
½ teaspoon black pepper
5 tablespoons extra virgin olive oil, divided
2 tablespoons tahini
3 tablespoons harissa paste
5 tablespoons lemon juice
2 tablespoons lemon zest, plus extra for garnish
2 tablespoons vegetable oil, divided
¼ cup cilantro, thinly sliced
¼ cup mint, thinly sliced
2 tablespoons black sesame seeds
Directions: 
Set circulator to 178°F.
Bring a pot of water to a boil with salt and blanch the Brussels sprouts for 30 seconds.
Drain and then place the Brussels sprouts in an ice bath to cool for a few minutes.
Drain and place the Brussels sprouts in a sous vide pouch with ¾ teaspoon salt, pepper, and 1 tablespoon of extra virgin olive oil and seal. 
Place pouch in the water bath and cook for 1 hour and 15 minutes.
Once done, remove from water bath, open, and drain the pouch, and set aside until ready to sear.
Combine the remaining olive oil and salt with tahini, harissa, lemon juice, and lemon zest in a blender and blend on high until homogenous, about 3 to 4 minutes. Season to taste. Place mixture in a piping pouch or a small zip pouch with a trimmed tip.
In a large sauté pan over medium-high heat, heat half the vegetable oil until it ripples.
Sear half the Brussels sprouts, occasionally turning for even color, about 3 to 4 minutes. Transfer Brussels sprouts to a plate.
Add the other half of the vegetable oil and repeat with the rest of the Brussels sprouts.
Recipe courtesy of Sous Vide Magazine. 
Righteous Russet Potatoes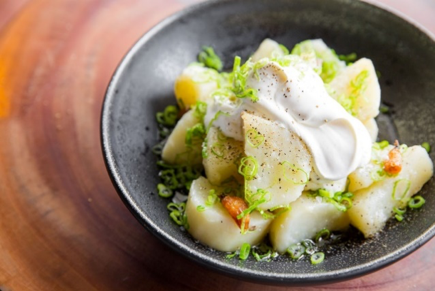 Ingredients: 
3 Russet potatoes
4 garlic cloves, peeled, optional
¼ cup olive oil 
Salt, as needed 
Pepper, optional, as needed
Scallions, optional, for garnish, as needed
Sour cream, optional, for garnish, as needed
Directions:
Preheat water batch to 194°F.
Peel your potatoes.
Slice up those potatoes; soak them in water.
Roast garlic to make an infused oil.
Transfer your potatoes to the vacuum sealer bag, arranging them in a single layer and avoiding any overlapping. Add salt, the infused oil, and the roasted garlic.
Seal the bag according to the directions that came with your vacuum sealer.
Cook for 45 minutes.
Top with your favorite toppings and serve! 
Recipe courtesy of Chef Steps. 
The Right Refreshment
Cold Brew Coffee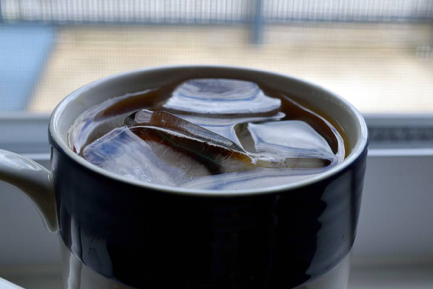 Ingredients: 
Directions
Grind your fresh coffee beans on a very coarse setting - finely ground coffee can end up cloudy when cold brewing.
Add the coffee grounds and water to a large bowl and stir until all coffee grounds are soaked.
Evenly pour the coffee mixture into your mason jars ensuring to leave at least a half inch of room from the top.
Place the lids on the mason jars and only tighten with your fingertips. Over-tightening the lid can break the glass, as air needs to escape when heating.
Submerge the mason jars into a pre-heated water bath at 149°Ffor about 2 hours.
Remove jars, filter the coffee with either a coffee filter or cheese cloth, and chill in the fridge.
Pour and serve over ice!
Recipe courtesy of Sous Vide Guy.
The Grand Finale  
Coffee Gelato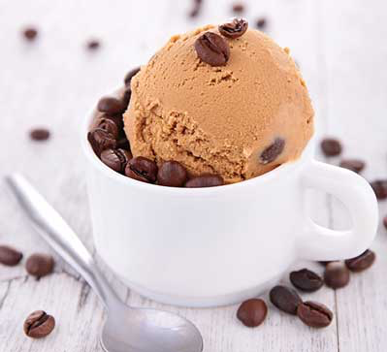 Ingredients: 
5 egg yolks
1 cup sugar
1 tablespoon strong Royal Cup coffee, mixed with ½ cup hot water (Click here to purchase)
Pinch of sea salt
1 ½ cup half and half 
Directions: 
Fill and preheat the sous vide water bath to 140°F.
In a blender with an immersion blender, blend the sugar and egg yolks together until very thick and smooth. With the machine running, add the salt, half and half, and coffee and continue to blend for a minute to thoroughly mix.
Pour the mixture into a large zip-closure cooking pouch and use the displacement method to remove the air and zip the seal.
Submerge pouch in the water oven to cook for 20 minutes. Pull the pouch from the water oven once or twice during cooking and agitate the contents, then return to the water bath.
Remove the pouch from the water bath and quick chill, submerged in ice water (half ice/half water) for 20 minutes, then refrigerate for at least 2 hours or until thoroughly chilled.
When ready to churn, transfer the custard mixture to an ice cream maker and freeze according to maker's instructions.
When churned, eat as soft ice cream or for a firmer texture, scoop into a freezer-safe container and store in the freezer for a few hours.
Recipe courtesy of Sous Vide Supreme. 
We hope these recipes inspire you to brew up some sous vide magic! Make sure to share with us on Facebook, Instagram or Twitter how these recipes turn out.