Spring is FINALLY here, and every fellow coffee lover knows what that means…ICED COFFEE TIME! Here at Royal Cup, we know there's no better match for warm weather than a refreshing pick-me-up! That's why we're sharing our top tricks and tips for whipping up delicious iced coffees from home.
Begin with the Best: To make the most delicious iced coffee, it ALL starts with the highest quality ingredients! While all Royal Cup coffee starts with the best beans around, there are different flavors and blends that may work better for iced coffee. Blends like our Kenya Flame Tree or Ethiopian Yirgacheffe have bright and bold flavors that will stand out through the ice.
Keep it Strong: Once you've chosen the Royal Cup coffee blend of your choice, it's time to make the magic happen! It's important to brew your coffee stronger than usual to avoid a watered-down result. Recommended coffee to water ratios vary, but you can aim for somewhere in the 1:4 to 1:8 range.
Ice, Ice, Baby: To add an extra punch of perky flavor, freeze your favorite Royal Cup coffee in ice trays and add to your beverage! When melted, they add flavor to your brew instead of diluting it. Think outside of the box by drizzling some chocolate or sprinkling a little cinnamon into your ice cubes before freezing them.
You do You: Baristas aren't the only ones with strong coffee game! Make your iced coffee your own with unique spices, creamers and sweeteners that you love. From honey and oat milk, to cinnamon and coconut, the options are limitless!
Still need a little inspiration? Here are two delicious iced coffee recipes we're drooling over:
Samoa Cookie Iced Coffee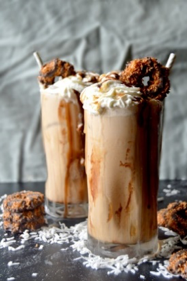 Ingredients:
Toasted coconut cold brew:
1/2 cup sweetened coconut, toasted
4 tablespoons of dark roast Royal Cup coffee grounds (Click here to purchase)
4 cups water
The drink:
1/3 of the toasted coconut cold brew
2 tablespoons heavy cream
1-2 tablespoons chocolate syrup
1-2 tablespoons coconut caramel sauce
Ice
Whipped topping
Directions:
To make the brew:
Add coffee grounds, coconut, and water together in a large bowl.  Stir briefly to combine. 
Cover and refrigerate for at least 12 hours. 
Remove the bowl from the refrigerator, and place a strainer covered with a cheesecloth into a pitcher. Pour the coffee, and grounds, over the strainer. 
Wait until the liquid has filtered through the strainer and discard the grounds.  
To make the drink:
In a tall glass, drizzle about 1 ½ tablespoons of both the chocolate and caramel sauce up the sides.
Pour in the toasted coconut cold brew and heavy cream. Mix and add ice.
Top with whipped cream and drizzle the remaining sauces on top of the caramel.
Recipe courtesy of The Lovely Life.
Homemade Iced Salted Honey Latte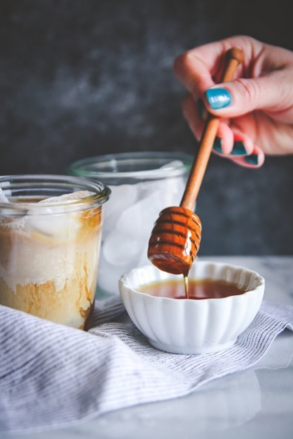 Ingredients:
1 cup milk
1 cup Royal Cup coffee (or espresso), at room temperature (If you want a warm latte, you can leave your coffee warm and omit the ice) (Click here to purchase)
1/2 teaspoon sugar
1 tablespoon honey
1 teaspoon flaked sea salt
Directions:
Pour milk into a jar with a lid and shake for a minute until foamy.
Take off the lid and microwave milk for 15 seconds.
Fill two large glasses with ice. Pour coffee evenly between the glasses. Sprinkle a little sugar in each glass.
Using a spoon, hold back the foam and pour a little milk into each glass.
Add foam on top of the latte.
Drizzle honey over each latte and top with flaked sea salt.
Stir to combine and enjoy!
Recipe courtesy of Sweet Phi.
For more tips, check out our blog!