The snuggly days of winter are coming to an end soon — but it's not quite over yet here at Royal Cup! We've put together a list of some of our favorite cold weather beverages to warm up to as we say goodbye to winter. Whether you're relaxing by the fire or bundled up outside, these recipes are the perfect way to wrap up the season!
Sea Salt Caramel Mocha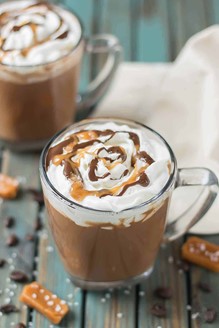 Ingredients:
¾ cup Milk
2 tbsp Cocoa Powder
1 tsp Sugar
2 shots HCV Espresso (Click here to purchase)
Whipped Cream
½ tbsp Caramel Sauce
½ tbsp Chocolate Sauce
½ tsp Sea Salt
Directions:
Warm milk in a saucepan until hot.
Stir in cocoa powder and sugar until dissolved.
Top with whipped cream, caramel sauce, chocolate sauce and sea salt.
Recipe courtesy of Strawberry Blondie Kitchen.
Salted Peanut Butter Cookie Latte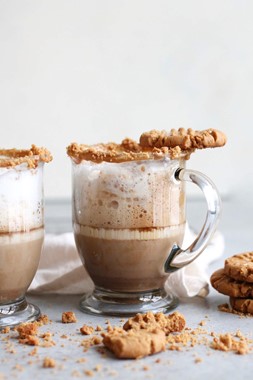 Ingredients:
For the Cookies
1/2 cup Creamy Peanut Butter
1/4 cup Granulated Sugar
1/4 cup Light Brown Sugar, loosely packed
1 Egg Yolk
1 teaspoon Vanilla Extract
1/4 teaspoon Salt
Sea Salt for sprinkling
For the Lattes:
1 tablespoon Creamy Peanut Butter, plus extra for rimming the glass
1 teaspoon Light Brown Sugar
Cookie Crumbles (1/4-1/2 of a Cookie)
2 HCV Espresso shots (Click here to purchase)
Steamed Whole Milk
Directions:
Preheat the oven to 350℉. Combine peanut butter, brown sugar, sugar, egg yolk, vanilla, and salt in a medium bowl. Stir until combined.
Roll dough into tablespoon sized balls and place on a baking sheet. Press down on the cookie dough balls using a fork, flattening them to create a criss-cross pattern. Bake for 10-12 minutes. Once finished baking, let cool on baking sheet for a few minutes, and the rest of the way on a cooling rack.
To make the latte, brew 2 shots of espresso in a mug. While espresso is still hot, add the peanut butter and brown sugar. Whisk to combine. Add ¼-1/2 of a cookie, crumbled, and stir again. Top with steamed whole milk, and more cookie crumbles. Serve with a cookie and enjoy!
Recipe courtesy of Spices in my DNA.
Bourbon Spiked Hot Chocolate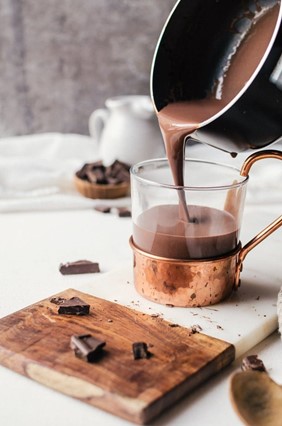 Ingredients:
1 cup Milk
1 teaspoon Cornstarch
1 tablespoon Cocoa Powder
2 teaspoons Brown Sugar
¼ teaspoon Salt
2 oz Semi-sweet Chocolate
½ teaspoon Vanilla
1 ½ oz Bourbon
Directions:
In a saucepan, add milk, cornstarch, and cocoa powder together. Whisk well until thoroughly combined.
Heat on medium-high and add the brown sugar, salt, and chocolate. Stir frequently until the mixture is steaming hot and the chocolate is completely melted.
Remove the saucepan from heat and stir in the vanilla and bourbon.
Pour the hot chocolate into a mug and top with whipped cream and caramel.
Serve immediately.
**Add a shot of Espresso for a delicious mocha! (Click here to purchase)**
Recipe courtesy of Cookie Named Desire.
Chamomile Tea Latte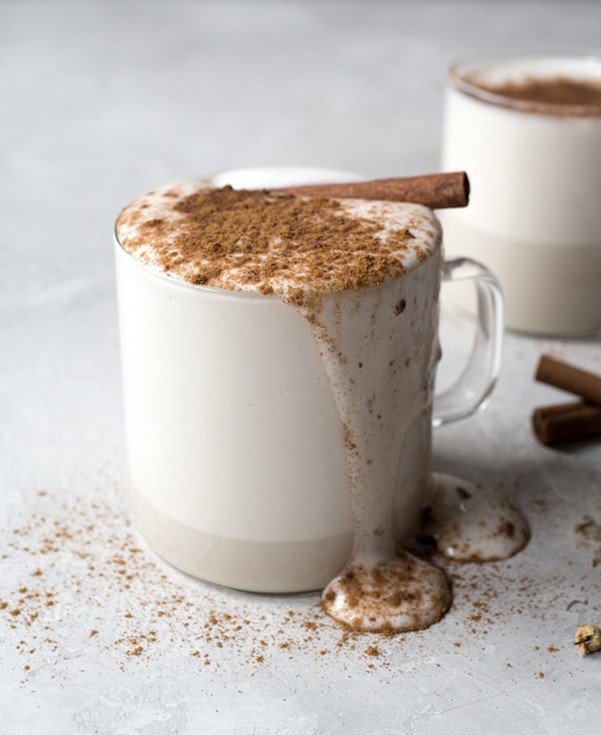 Ingredients:
2 cups Milk (any kind)
2 Chamomile Tea Bags (Click here to purchase)
2 teaspoons Vanilla Extract
5 Cloves, crushed
1 Cinnamon Stick + Ground Cinnamon for garnish
Directions:
In a saucepan, heat milk on medium-low heat with chamomile, cinnamon stick, and cloves.
When little bubbles form along the sides of the pan, let it simmer for a couple of minutes before turning off the heat. With the heat turned off, steep for 5-10 minutes depending on how patient you are.
Remove tea bags, cinnamon stick and cloves.
Add vanilla extract.
Whisk to froth.
Pour chamomile tea latte into 2 mugs and garnish with ground cinnamon.
Recipe courtesy of Oh, How Civilized.
Looking for more? We have a variety of delicious coffee and tea recipes on our blog -- from the sweet, to the spiked, to the surprising!
We hope these warm, snowy-day-approved recipes are just what you need to make it through the end of the winter season! Don't forget to share your own creations with us on Facebook, Instagram and Twitter.