Mother's Day is JUST around the corner and our team at Royal Cup is sharing a few easy ways to show you appreciation for the tea-riffic ladies in your life! While your loved one may have her preferred classic pick-me-up, we're sharing our secrets for skipping the coffee shop and treating her to a heart-felt homemade treat that the whole family can help make!
Coffee Toppers: Spice up her traditional morning coffee with a special topper like homemade whipped cream, sprinkles or syrups. Make it your own by adding her favorite colored sprinkles or crumble her favorite cookie on top! This is a great way for the kids to help and get creative in making the perfect pick-me-up mom will love!
Coffee Whipped Cream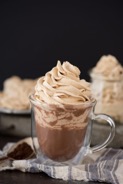 Ingredients:
Directions:
Place a metal mixing bowl and beaters in the freezer for 15 minutes.
Remove the bowl from the freezer. Add the heavy cream, powdered sugar, and instant coffee granules and beat with an electric mixer for 4-5 minutes, or until stiff peaks form / it's scoop-able with a spoon and holds its shape.
Recipe courtesy of the First Year Blog.
If she's is more of a tea lover, try this chai-whipped cream for the perfect finishing touch to a hot tea or coffee!
Chai Whipped Cream

Ingredients:
1 cup heavy whipping cream
1/4 cup powdered sugar
1/2 teaspoon cinnamon
1/4 teaspoon nutmeg
1/4 teaspoon ground ginger
1/8 teaspoon ground cloves
1/8 teaspoon ground star anise
1/8 teaspoon cardamom
1/2teaspoon orange extract
1/2 teaspoon vanilla bean paste (or extract)
Directions:
Place a metal bowl and mixer whisk blades in the freezer for at least 30 minutes.
Place all the ingredients in the chilled bowl and beat on high until medium to stiff peaks form. Softer peaks are good for coffee and pie. Stiffer peaks are better for piping on cheesecakes.
Store in a sealed container in the refrigerator for 2-3 days.
Recipe courtesy of  Inside BruCrew Life.
"I Heart You Mom" Marshmallow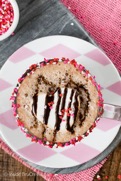 Ingredients:
1 large marshmallow
Chocolate syrup
Sprinkles
Directions:
Use a cookie cutter or knife to cut out marshmallow heart.
Top her drink with marshmallow, drizzle with syrup and sprinkles.
Serve up hot!
Inspired by Inside BruCrew Life.
Cinnamon Dulce Coffee Syrup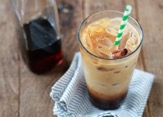 Ingredients:
1/2 cup light brown sugar
1/3 cup pure maple syrup
1/2 cup water
1 5-inch cinnamon stick
Directions:
Add all ingredients to a small saucepan and set over medium heat.
Cook, stirring occasionally, until heated through and the sugar has dissolved, about 5 minutes. Remove from heat and let sit for 15 minutes.
Remove cinnamon stick. Keep refrigerated in an airtight container for up to 1 week.
Recipe courtesy of Kitchen Treaty.
Latte Art: Coffee shops aren't the only ones with mad coffee skills! Latte art is easier than you think, and a fun way to make her feel extra loved on her special day.
All that you need for preparing latte art design is:
A pitcher/jug
A cup
A latte art tool or a toothpick (or something a bit thicker than a toothpick)
An espresso machine
And let's not forget about the main ingredients: Royal Cup coffee, milk and chocolate syrup.
First, you need cold milk. Do not heat it before steaming. When it comes to coffee, full fat milk is typically used but it won't make a lot of difference if you use some other types. Put the milk in a pitcher and place under the wand of the espresso machine.  Begin to steam the milk but be careful not to raise the wand too high. If you see large bubbles forming, this means it is too high. When the milk reaches 140 F – 180 F, turn off the wand. Make sure you use a thermometer in order to be accurate! Tap the pitcher on a surface to remove large bubbles and make a thicker foam. Swirl the steamed milk and it is ready to be poured. This should look creamy, not just foamy.
Don't have an expresso machine? No worries! You can easily prepare the milk by microwaving it. It will be as good as if you have made it in an espresso machine and may be a bit simpler for beginners.
To Make a Heart: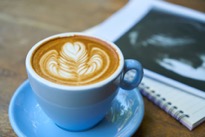 Use three ounces of milk per one-ounce cup and steam. Tilt the cup at the angle of 45 degrees with one hand and with the other pour the milk in the center. The pitcher should be held high in order to let the milk come to the bottom of your cup.
When your cup is up to three-quarters full, start shaking your hand a bit (not the cup, but the pitcher) then put the pitcher closer to your cup and do not shake anymore. You will notice white circles appearing. The moment the cup gets almost full, pour the milk in line from one side to the other through the center.
Watch a step-by-step tutorial here: 
https://www.youtube.com/watch?time_continue=83&v=i4xTz_OwlSQ&feature=emb_logo
To Make a Rosetta: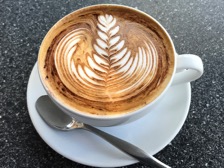 Tilt your cup about 45 degrees and start pouring the milk, but don't hold the pitcher too close to the cup. Make sure the stream of milk is thin, so that it creates the base as it sinks to the bottom.
When the cup is three quarters full, hold the pitcher closer to the cup until it rests on the cup. Once the pitcher touches the cup, pour a bit more milk and you'll see a dot of white foam. At this point, start moving the pitcher from one side to the other. When you reach the end of the cup, start pouring less milk, lift the pitcher and start moving the milk stream forward through the center.
Watch a full tutorial here:
https://www.youtube.com/watch?v=bd5WeZeGhT8&feature=emb_logo
Don't miss the endless amount of recipes, tips, and tricks on our blog! Still looking for the perfect gift for your brew-tiful lady? Check out our "Last Minute" Mother's Day Gift Guide.
We hope this blog helps you treat your special one like the queen she is this Mother's Day! Be sure to share photos of your Mother's Day fun with us on Facebook, Instagram or Twitter!