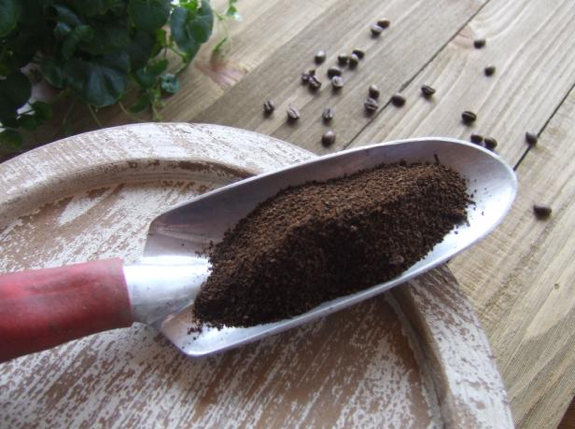 Your coffee experience doesn't have to stop when the pot is empty! Coffee grounds have many primary components that remain significantly beneficial long after they are used to brew your favorite Royal Cup coffee. Used coffee grounds are particularly helpful in the process of gardening and act as a fertilizer while improving the texture of your soil. There are many ways to incorporate coffee grounds within your gardening techniques to keep your plants and veggies fresh and brew-tiful! This summer, Royal Cup is giving your garden the Royal treatment with these gardening with grounds tips and tricks.
 
COFFEE GROUNDS FOR GARDENS
Compost Them. A safe way to use coffee grounds is adding to your compost. Grounds should only amount to 10 to 20 percent of your total compost volume. If this percentage is too high, coffee grounds may stop good microbes from breaking down organic matter. To achieve this volume, you can add 4 parts shredded leaves to 1-part coffee grounds (by weight). Some suggest adding lime or wood ash to the compost to dilute the acidity of the grounds. This is recommended but isn't necessary.
Spread thinly and cover. When adding coffee grounds to your garden, if the layer is too thick, it will cause the natural soil to compact and form a barrier that blocks air and water. When adding grounds to your soil, use a thin layer (half an inch, tops) covered with a thicker layer (2-4 inches) of organic matter, such as shredded bark, wood chips or compost.
Shift soil pH. If you are trying to balance the acidity of your soil, you need to determine the pH level with a soil test. Based on what you are planting, if your soil needs extra acidity, add coffee grounds at a depth of 7 to 8 inches.
 
Tips by: hgtv.com
 
COFFEE GROUNDS TO MAKE YOUR ACID LOVING PLANTS HAPPY
Coffee grounds have historically been used to fertilize roses long before the formal gardening process of balancing pH levels was established. Because acidity lowers with time, adding coffee grounds will make sure plants such as roses that are considered 'ericaceous' remain healthy as they flourish from highly acidic environments.
Blueberries, azaleas, and rhododendrons are other plants that grow better at high acidity levels!
COFFEE GROUNDS AS A GENERAL FERTILIZER
Many plants outside those considered as 'ericaceous' can benefit from the natural fertilizing components of coffee grounds. While coffee grounds decompose, they release a beneficial amount of nitrogen into the soil. Nitrogen is one of three macro nutrients needed for growth, alongside potassium and phosphorous. Leafy veggies like spinach and cabbage can also considerably benefit from the boost of nitrogen from these grounds!
To boot, coffee grounds also repel the flies and keep soil loose. Coffee grounds are a super safe substitute to the alternative of other pesticides typically used to repel critters from the garden.
Tips by: naturallivingideas.com
Don't miss out on more recipes, tips, and tricks on our blog.
We hope this helps and inspires you to grow a brew-tiful garden this summer! Be sure to share photos of you gardening with grounds on Facebook, Instagram, or Twitter!