Summer may be ending, but the fun is just getting started at Royal Cup! We've put together a few of our favorite recipes to help you say goodbye to summer in style. Whether you're throwing a Labor Day bash or soaking up your last days at the pool, these four recipes are the perfect cure for the end-of-summer blues!
Cookies 'n' Coffee Ice Cream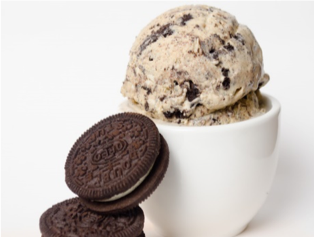 Ingredients
2 cups heavy cream
1 cup whole milk
1 Tahitian vanilla bean, split and scraped
7 egg yolks
1/2 cup plus 2 tablespoons sugar
4 teaspoons medium grind coffee (Click here to purchase)
1/4 teaspoon vanilla extract
1/2 teaspoon kosher salt, or to taste
1 1/2 cups crushed Oreo sandwich cookies, store-bought
Directions
1. Bring cream and milk to a simmer in a heavy saucepan.
2. Stir in vanilla bean, cover, and let steep for 30 minutes.
3. Remove vanilla pod and reserve for another use.
4. In a bowl, whisk egg yolks, sugar, and coffee together until pale in color and thick. Ladle about 1/3 of dairy into egg yolks, whisking constantly, then transfer yolk mixture back to saucepan.
5. Place pot over medium-low heat and cook, whisking frequently, until a custard forms on a spoon and a finger swiped across the back leaves a clean line, or until custard temperature reaches 170°F. Stir in salt to taste.
6. Strain custard through a fine mesh strainer and chill in either ice bath or refrigerator until it is very cold, about 40°F.
7. Churn in ice cream maker according to manufacturer's instructions, adding Oreos in last minute of churning, then transfer to an airtight container and harden in freezer for at least 4 hours before serving.
Take a look at more Royal Cup ice cream creations here!
Churro Iced Coffee Float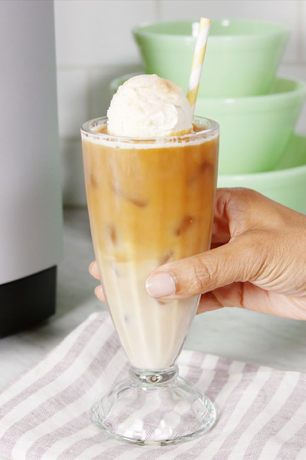 Ingredients
1/2 can sweetened condensed milk
1/2 c. half-and-half
4 cinnamon sticks
Dash of pure vanilla extract
2 shots Royal Cup espresso (Click here to purchase)
Ice
Cold cream soda
Vanilla ice cream
Cinnamon sugar
Directions
1.  In a small saucepan over low heat, combine condensed milk, half-and-half, and cinnamon sticks.
2. Cook on low for 8 minutes to infuse with the cinnamon; remove from heat, add vanilla, discard cinnamon sticks, and pour into heat-proof glass jar.
3. Refrigerate creamer (it will keep for one week). Make espresso.
4. Pour espresso shots into a tall glass, add ice and 2 ounces churro creamer, and top off with cream soda.
5. Garnish with a scoop of ice cream and sprinkle with cinnamon sugar.
I want "S'mores" Coffee Pie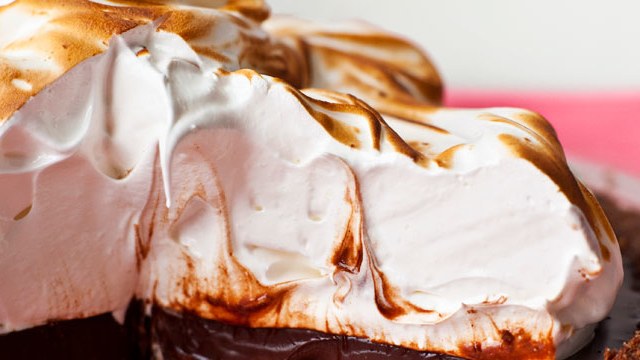 Ingredients
Graham Cracker Crust:
9 whole graham crackers, ground finely in a food processor
2 tablespoons heavy cream
2 tablespoons Nutella
1 ounce semisweet or bittersweet chocolate, melted
1 tablespoon unsalted butter, melted
Coffee Ganache:
12 ounces semisweet or bittersweet chocolate (do not exceed 61% cacao), finely chopped
2 tablespoons (1/4 stick) unsalted butter, cut into 1/2 inch cubes
1 1/4 cups heavy cream
2 tablespoons finely ground Royal Cup coffee beans (Click here to purchase)
Meringue:
2 large egg whites
1/2 cup sugar
Directions
1. To create the crust, mix graham cracker crumbs and remaining ingredients in a small bowl to blend.
2. Press mixture onto bottom and up sides of pie dish; chill until crust is firm, about 30 minutes.
3. Begin making coffee ganache. Place chocolate and butter in a large bowl. Bring cream, coffee, and 2 tablespoons water to a boil in a small saucepan. Remove from heat; cover and let steep for 5 minutes.
4. Strain cream mixture through a fine-mesh strainer into bowl with chocolate and butter; discard coffee grounds. Stir until melted and ganache is smooth.
5. Pour into chilled crust; smooth top. Chill until set, about 1 hour.
6. Finally, start the meringue. Using an electric mixer with clean, dry beaters on medium speed, beat egg whites in a medium bowl until light and frothy.
9. Add sugar in 4 additions, beating for 1 minute after each addition.
7. Continue beating egg whites until stiff and glossy.
8. Spoon meringue over coffee ganache; swirl decoratively with a spatula or the back of a spoon.
9. Using a kitchen torch, if desired, toast meringue until golden brown in spots.
Arnold Palmer Pops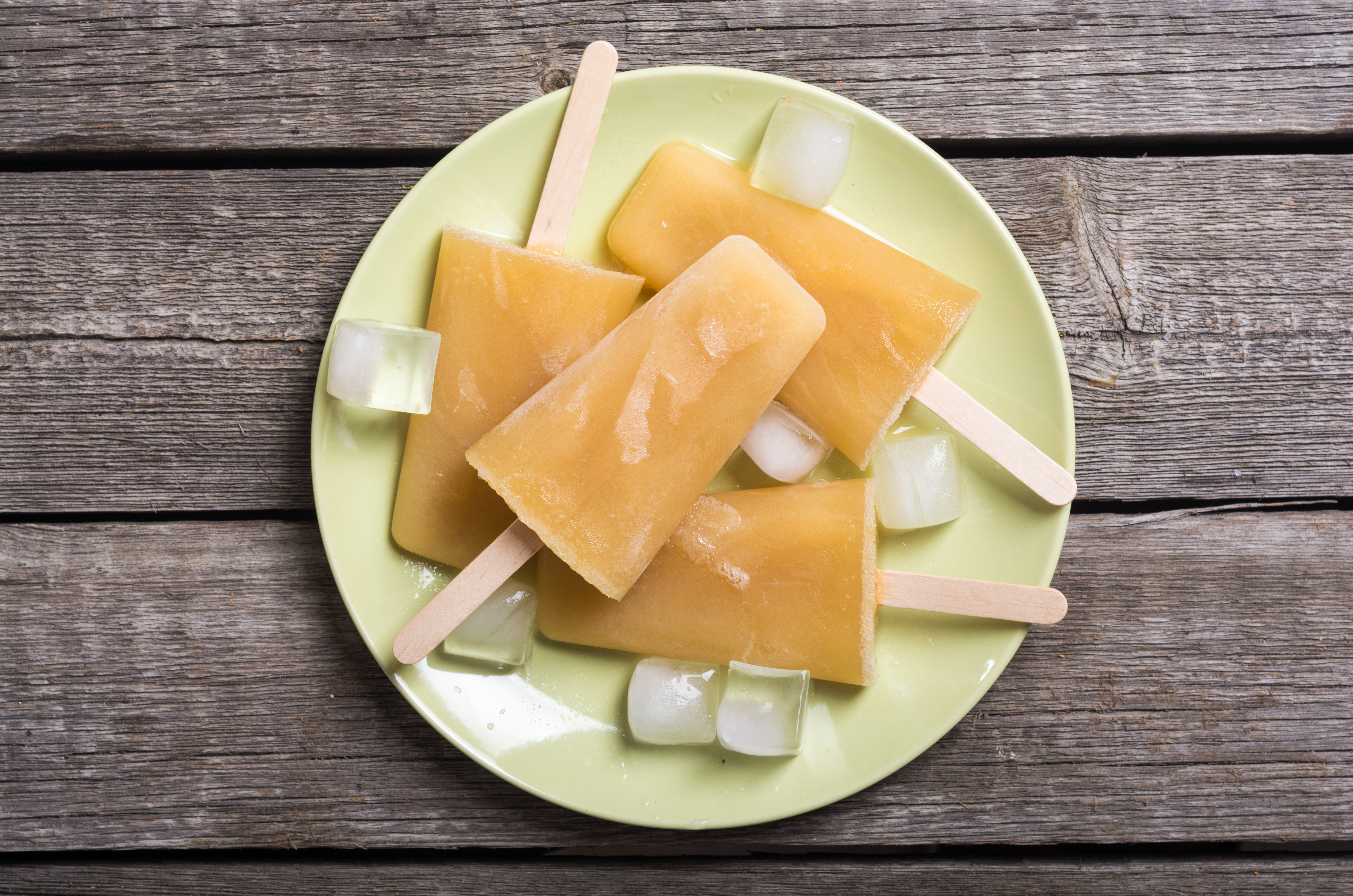 Ingredients
1 cup sugar
3 Large lemons, zest and juice
2 cups water
3 Royal Cup Black Tea bags (Click here to purchase)
Directions
1. Pour sugar into a resealable container.
2. Zest all lemons and place lemon zest in with the sugar.
3. Mix until well-combined. Cover and set aside for at least 1 hour, stirring occasionally. Juice the lemons and set juice aside.
4. When ready, heat the water on the stove top to a simmer. Add tea bags and cover, steep for 5 minutes. Remove bags then add lemon sugar and lemon juice to the hot tea. Stir until sugar is completely dissolved.
5. Pour tea through a find mesh strainer into a pitcher. Pour tea into popsicle molds, leaving about 1/4 inch of space at the top for expansion.
6. Depending on your popsicle mold, place cover on and sticks halfway into the popsicle. Place in the freezer for 4 hours or overnight.
7. Check the popsicles after 1 hour to adjust sticks if needed. Gently remove frozen popsicles from mold by running mold under warm water and pulling the popsicles straight up.
8. If they don't budge right away, run warm water.
Our blog has more poppin' iced tea recipes here!
We hope these delicious treats help you perk up in the last weeks of summer! Share your creations with us on Facebook, Instagram and Twitter.