Summertime is an on-going celebration of everything festive, friendly and frozen. Whether it be a brew break while working from home, a reason to entertain friends on the deck, or a way to toast to your favorite holidays, the team at Royal Cup can find a cool way to celebrate the day.
Here are Royal Cup's top three coffee slushies to refresh your summer celebration and cater to any coffee lover. So, grab a bag of Ice Ice Baby – and let's make some slushies!
Baileys Coffee Slushie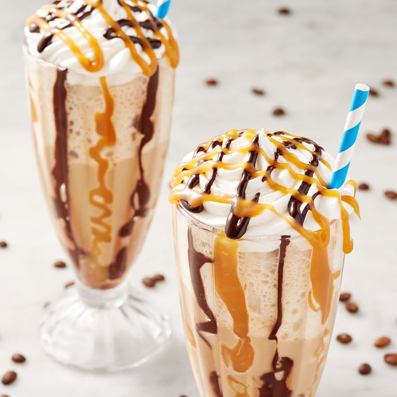 For the ones who need an afternoon pick-me-up with a kick, this in your treat. This adult friendly buzzed shake is delightfully refreshing and includes cold-brew ice cubes to keep your beverage fresh till the end.
Ingredients:
3 cups hot strong brewed coffee – Royal Cup Brew
1 ½ to 2 cups sugar
4 cups milk
2 cups half-and-half cream
1 ½ teaspoons vanilla extract
Baileys Irish cream liqueur
Vodka of your choice
Chocolate sauce, caramel sauce, and whipped cream for topping
Directions:
Brew coffee and let chill.
Fill an ice cube tray with 2 ½ cups cold brew. Freeze until solid, about 3 hours.
Combine frozen coffee cubes with remaining ½ cup cold brew, milk, Baileys, and vodka in a blender and blend until smooth.
Drizzle chocolate and caramel sauces into each of your glasses. Divide slushie evenly between glasses, then top with whipped cream, caramel, and chocolate.
Recipe courtesy of delish.com
 
Skinny Frozen Coffee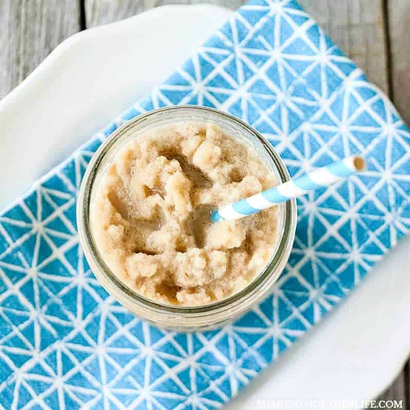 For those who are trying to keep that beach bod going until the end of summer, this chilled treat will leave you feeling accomplished. One tall 16 oz. glass of this skinny frozen coffee is under 100 calories AND naturally flavored.
 
Ingredients:
8 oz Coffee – 5 calories – Royal Cup Brew
8 oz vanilla almond milk – 80 calories
½ tsp almond extract (you can also use vanilla, rum, mint, etc.) - 6 calories
Directions:
Brew your favorite blend of Royal Cup coffee and allow it to cool.
Once you have the coffee cooled, put in an ice cube tray and let it freeze overnight.
Blend together some frozen coffee cubes, vanilla almond milk, and a splash of almond extract.
If you can't get enough of this guilt-free treat…. here are some flavor variations to make multiple versions.
 
Flavor Variations:
Chocolate almond milk + mint extract
Cashew milk + rum extract
Vanilla almond milk + vanilla extract
Coconut soy milk + vanilla extract
Recipe courtesy of shakentogetherlife.com
 
Vegan Mocha Cold Brew Slushies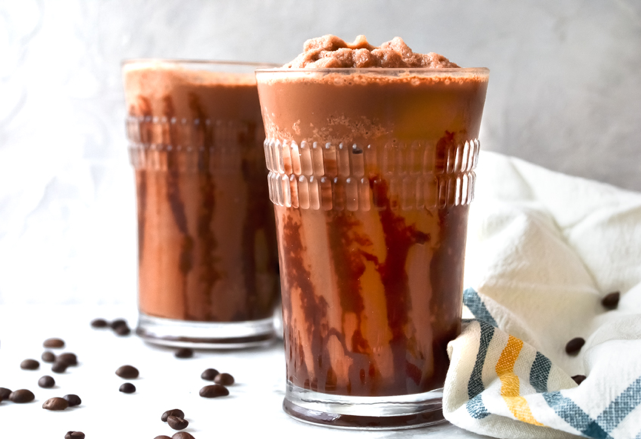 Skipping out on dairy doesn't have to mean sacrificing any flavor! We have just the recipe for those who need a pick-me-up, minus the dairy. Treat yourself to this vegan mocha brew slushie, full of flavor.
Ingredients:
2 cups frozen cold brew ice cubes – Royal Cup Cold Brew
1 ½ cups chocolate oat milk (can also use regular or vanilla oat milk or another non-dairy milk)
⅓ cup vegan chocolate syrup (can buy in stores or use recipe below)
Directions:
Freeze the cold brew in ice cube trays overnight. Alternatively, you can just use 1 ½ cups cold brew and 2 cups ice.
Blend all ingredients until smooth.
Drizzle the inside of 2 glasses with chocolate syrup. Pour in the slushies and serve!
Vegan chocolate syrup
Ingredients:
½ cup sugar
½ cup water
½ cup oat milk or other non-dairy milk
12 ounces bittersweet chocolate chips
 
Directions:
Combine the sugar and water in a small saucepan over medium heat, stirring until the sugar is dissolved.
Add the milk and bring to a simmer.
Remove from the heat and add the chocolate chips. Let sit for a few minutes and then stir to combine, making sure the chocolate is completely melted.
Store in a sealed container in the fridge for up to 2 weeks.
Recipe courtesy of phenomenalphoods.com
Don't miss out on more recipes, tips, and tricks on our blog!
We hope this helps you find a creative way to stay cool, celebrate, and make memories this summer. Be sure to share photos of your party brews on Facebook, Instagram, or Twitter!