Any espresso lovers out there?! Some say this pick-me-up is too strong or bitter for their liking, but the real coffee enthusiasts see the true brew-tea in these beans. On National Espresso Day, we're sharing five deliciously sweet recipes to win over any coffee lover.
Chocolate Espresso Snowballs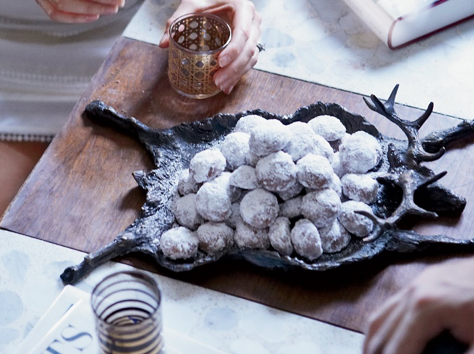 Ingredients:
2 sticks softened unsalted butter, plus more for greasing
½ cup sugar
2 teaspoons pure vanilla extract
1 ¾ cups all-purpose flour
¼ cup unsweetened cocoa powder
2 teaspoons Royal Cup espresso (Click here to purchase)
½ teaspoon salt
2 cups finely chopped pecans
Powdered sugar, for coating
Directions:
In a large bowl, mix the butter, sugar, and vanilla until smooth. Stir in the flour, cocoa, espresso powder, and salt until thoroughly blended. Stir in the pecans. Cover the dough and refrigerate for 1 hour.
Preheat the oven to 325° F. Lightly butter 2 cookie sheets.
Working in batches, roll the dough into tablespoon-sized balls and place about 2 inches apart on the prepared cookie sheets.
Bake in the upper and lower thirds of the oven for 15 minutes, until the tops are dry, and the cookies are slightly firm to the touch.
Let the cookies cool on the sheets for 10 minutes, then transfer to a rack to cool completely; roll in confectioners' sugar to coat.
Recipe courtesy of Food & Wine.
Brew-tiful Espresso Blondies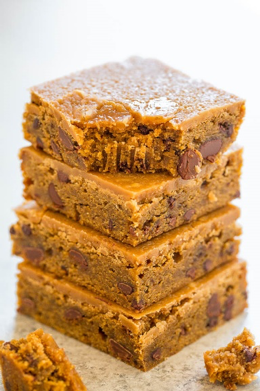 Ingredients:
Blondies
½ cup unsalted butter (1 stick), melted
1 large egg
1 cup light brown sugar, packed
1 tablespoon vanilla extract
1 tablespoon Royal Cup espresso (Click here to purchase)
1 cup all-purpose flour
½ teaspoon salt, or to taste
¾ cup semi-sweet chocolate chips (may use a combo of mini and regular sized chips)
Frosting
½ cup (1 stick) unsalted butter
½ cup light brown sugar, packed
1 teaspoon vanilla extract
Pinch salt, optional and to taste
Directions:
Preheat oven to 350° F. Line an 8X8-inch baking pan with aluminum foil, spray with cooking spray; set aside.
To a large, microwave-safe bowl, add the butter and heat to melt, about 1 minute on high power.
Wait momentarily before adding the egg so you don't scramble it. Add the egg, brown sugar, vanilla, and espresso; whisk until smooth.
Add the flour, salt, and chocolate chips, and stir until just combined, don't overmix.
Turn batter out into a prepared pan, smoothing the top lightly with a spatula as necessary. Bake for about 19 to 22 minutes, or until top is set in center and done; don't overbake. Blondies firm up as they cool. A toothpick should come out clean, or with a few moist crumbs, but no batter.
Place the pan on a wire rack to cool completely before frosting.
Start making the frosting. To a small saucepan, add the butter and heat over medium-high heat to melt.
Add the brown sugar, vanilla, optional salt, and whisk to combine until the brown sugar has dissolved.
Reduce the heat to low and allow mixture to simmer very gently for 3 minutes; it should be very gently bubbling with a dimpled appearance, no need to stir it. Allow the glaze to cool to a warm temperature in the pan for about 5 minutes before evenly drizzling it over the blondies.
Allow frosting to set up fully before slicing and serving, about 1 hour. Blondies will keep airtight at room temperature for up to 1 week, or in the freezer for up to 6 months.
Recipe courtesy of Averie Cooks.
Salty Vanilla Bean Espresso Chocolate Chip Cookies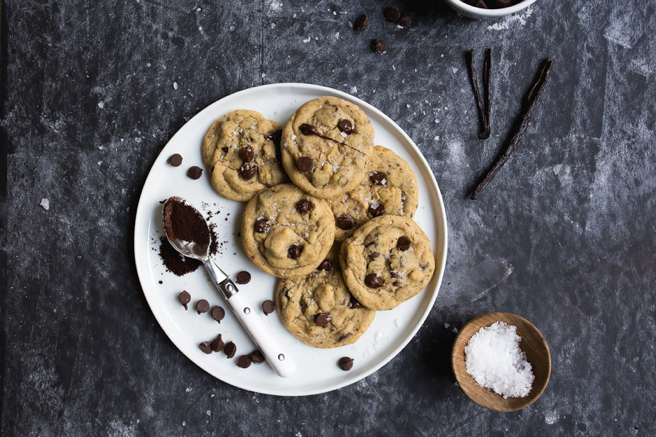 Ingredients:
6 tablespoons salted butter
¼ cup dark brown sugar
3 tablespoons granulated sugar
1 large egg yolk
½ of a vanilla bean, sliced open and scraped
½ cup and 2 tablespoons all-purpose flour
¼ teaspoon fine sea salt
1 teaspoon Royal Cup espresso (Click here to purchase)
¼ teaspoon baking soda
¼ teaspoon baking powder
⅓ cup semisweet chocolate chips
Directions:
Preheat the oven to 375° F. Line a light-colored baking sheet with a silicone mat.
In a medium bowl, beat the butter with an electric mixer on medium speed until fluffy, about 20 seconds.
Add the sugars and beat for about 30 seconds. The mixture will turn a pale color.
Next, add the egg yolk and the insides from the vanilla bean, and beat until just combined.
Whisk together the flour, salt, espresso powder, baking soda, and baking powder in a separate bowl.
Sprinkle the flour on top of the butter mixture and beat just until combined.
Stir in the chocolate chips.
Scoop the dough into 12 dough balls, and space them evenly on the baking sheet.
Bake for 8-10 minutes, removing the cookies from the oven when the edges just start to turn golden brown.
Let the cookies rest on the baking sheet for 1 minute before moving them to a wire rack to cool.
Recipe courtesy of Dessert for Two.
Espresso Hot Chocolate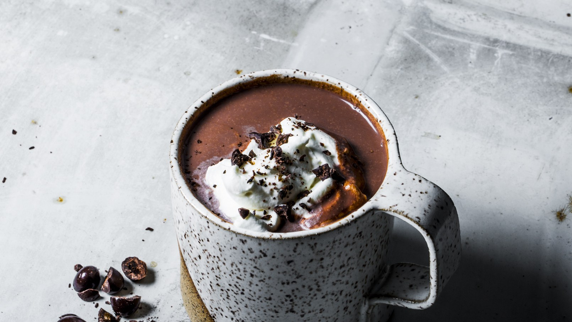 Ingredients:
3 cups whole milk
3 tablespoons crushed cinnamon sticks (preferably Ceylon)
1 cup semisweet chocolate, finely chopped
3 tablespoons granulated sugar
Pinch of kosher salt
½ cup brewed Royal Cup espresso (Click here to purchase)
Whipped cream and chocolate-covered espresso beans (for serving; optional)
Directions:
Bring milk and cinnamon to a simmer in a medium saucepan over medium-low heat, whisking occasionally and making sure milk doesn't boil, until cinnamon is floral and fragrant, about 10 minutes.
Whisk in chocolate, sugar, and salt and cook, whisking frequently, until mixture is smooth and creamy and chocolate is melted, about 5 minutes. Pour through a fine-mesh sieve into a large measuring cup; discard cinnamon.
Add espresso to hot chocolate mixture and stir to combine. Divide among mugs, then top with whipped cream and espresso beans, if desired.
Recipe courtesy of Bon Appetit.
Espresso Mudslides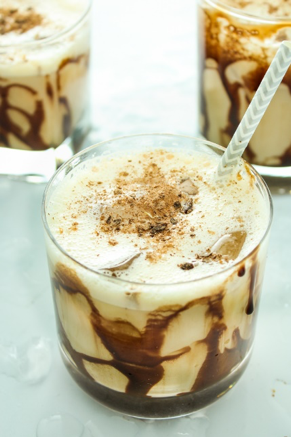 Ingredients:
4 tablespoons brewed Royal Cup espresso (Click here to purchase)
4 tablespoons Irish cream
6 tablespoons vodka
Ice
Directions:
Add ice to a cocktail shaker. Pour in cooled espresso, Irish cream, and vodka.
Shake 10-15 seconds and pour into glasses. Enjoy!
Recipe courtesy of The Fitchen.
Craving more sweets? You'll love this Espresso Tiramisu recipe a-latte!
We hope these recipes leave you frappe and satisfied on National Espresso Day! Don't forget to share your perky creations with us on Facebook, Instagram, or Twitter!