The spookiest holiday is just around the corner, and witches aren't the only ones brewing up some magic. Royal Cup is sharing our top three recipes to die for this season. This Halloween, (trick or) treat yo' self to these scary delicious treats!
Witches' Brew Cocktail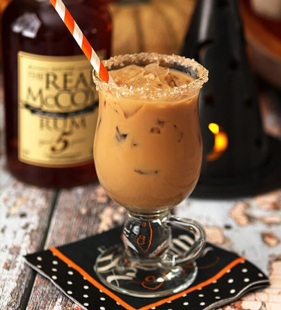 Ingredients:
3 oz Royal Cup espresso (Click here to purchase)
1 oz rum
1 oz maple syrup
1 oz half and half
Cinnamon sugar for rimming (mix cinnamon with sugar with a 1:4 ratio)
Directions:
Using your fingers and a couple of drops of maple syrup, wipe the rim of the glass with syrup. Dip the rim into the cinnamon sugar.
Put the remaining ingredients into a cocktail shaker filled with ice and shake vigorously. Strain and pour the contents over ice in a cup.
Recipe Courtesy of Creative Culinary.  
Spooky Coffee Shake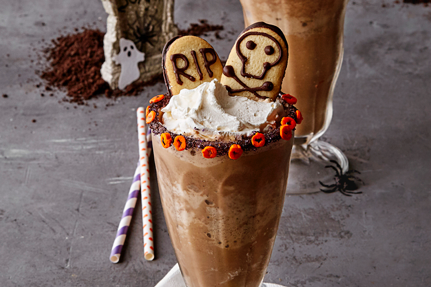 Ingredients:
1 cup Royal Cup cold brew iced coffee concentrate (Click here to purchase)
1 oz. semi-sweet chocolate, melted
4 milk chocolate-filled cookies
3 vanilla creme-filled chocolate sandwich cookies
1 ½ cups vanilla ice cream
2 teaspoons Halloween sprinkles
¼ cup whipped cream
Directions:
Pour ¾ cup coffee concentrate evenly into compartments of ice cube tray. Freeze 4 hours or until firm.
Meanwhile, spoon melted chocolate into small resealable plastic bag. Cut a small piece off one bottom corner of bag; use to decorate oblong milk chocolate-filled cookies to resemble gravestones. Let stand until firm.
Blend vanilla creme-filled cookies in blender until fine crumbs form; pour into bowl.
Add remaining coffee concentrate to blender along with the ice cream; blend until smooth. Add coffee ice cubes; blend on high speed until thickened. Add 3 tablespoons cookie crumbs; pulse just until blended. Set aside. Combine remaining cookie crumbs with sprinkles.
Dip rims of 2 tall glasses, one at a time, into ice cream mixture in blender, then into crumb mixture, turning to evenly coat rim of each glass with each ingredient.
Fill prepared glasses with remaining ice cream mixture; top with whipped cream and decorated cookies. Serve immediately.
Recipe Courtesy of My Food and Family.
Bone Appetit Brownies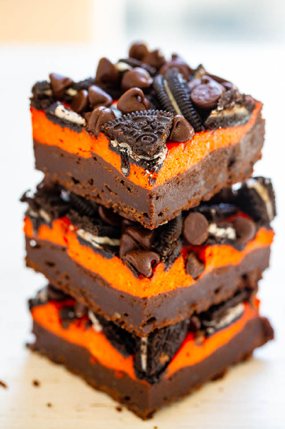 Ingredients:
Brownies
½ cup unsalted butter (1 stick)
6 oz dark or bittersweet chocolate, chopped
2 large eggs
¾ cup granulated sugar
1 tablespoon pure vanilla extract
1 tablespoon brewed Royal Cup coffee (Click here to purchase)
1 teaspoon instant espresso granules (optional but recommended)
3/4 cup all-purpose flour
1/2 teaspoon salt, or to taste
Cream Cheese Topping
8 oz brick-style cream cheese, softened
1 large egg
1/4 cup granulated sugar
10 drops yellow food color, or as needed
5 drops red food color, or as needed
12 sandwich cookies (such as Oreos), chopped
1/2 cup semi-sweet chocolate chips
Directions:
Preheat oven to 350° F. Line an 8-inch square pan with aluminum foil leaving overhang and spray with cooking spray, or grease and flour the pan; set aside.
In a large microwave-safe bowl, add the butter, chocolate, and heat on high power to melt, about 2 minutes. Stop to check after 1 minute and stir. Heat in 15-second increments until chocolate has melted and mixture can be stirred smooth. Allow mixture to cool momentarily before adding the eggs so they don't scramble.
Add the eggs, sugar, vanilla, coffee, optional espresso granules, and whisk vigorously to combine.
Add the flour and salt; stir until smooth and combined without overmixing.
Turn batter out into prepared pan, smoothing the top lightly with a spatula as necessary; set aside.
In a medium bowl, add the cream cheese, egg, sugar, and beat with a handheld electric mixer on high speed for about 2 minutes, or until mixture is smooth. Stop to scrape down the sides of the bowl as necessary.
Add the food color and mix to incorporate. Add additional drops of food color as needed to achieve the desired shade of orange. Remember to add slowly because you can't un-do it once you add it.
Spread mixture over the brownie layer in heaping tablespoon-sized dollops, leaving a bare 1/2-inch perimeter around the edges. Evenly smooth the dollops together to form a solid layer.
Evenly sprinkle the sandwich cookies, chocolate chips, and bake for about 43-45 minutes, or until brownies are done.
Allow brownies to cool uncovered on a wire rack for about 2 hours.
Cover with foil and refrigerate for at least 3-4 hours before slicing and serving. The cream cheese needs to be chilled and set before slicing.
Recipe courtesy of Averie Cooks.
Check out our blog for more spooky recipes!
We hope these treats help you have a fa-boo-lous and fun Halloween! Don't forget to share your creations with us on Facebook, Instagram, or Twitter.