We are excited to receive a special award from the AEC for our efforts locally in the area of sustainability.
If you have been around Royal Cup very long you have probably heard the term "sustainability" used a time or two. What sustainability means to Royal Cup is that we pride ourselves on being a company that is 100% committed to environmental awareness and socially responsible practices. We take special pride in constantly researching/developing products and solutions that benefit both the farms and the end consumer. In fact, if you haven't had a chance to see our 2015 Sustainability Report then you absolutely should take a look! It is chock full of great facts and insights into Royal Cup's sustainability goals. 
We are proud to be recognized by the AEC which believes all Alabamians have a right to a clean and safe environment and work hard to highlight and empower companies working towards a similar goal.  The AEC gives a voice to citizens & groups interested in protecting their rights.
The award was given based on our company's goal to be 99% landfill free by 2020. Royal Cup has recently implemented a new, aggressive recycling program to help accomplish this goal. 
We are incredibly proud to receive this award and to be recognized for our efforts in making the world a better place. It is more than just initiatives and policies, it is changing the way we think about business. We want to impact our world for the better and are proud to lead the charge in our home state of Alabama. - Brittany Johnson: Sustainability Chair.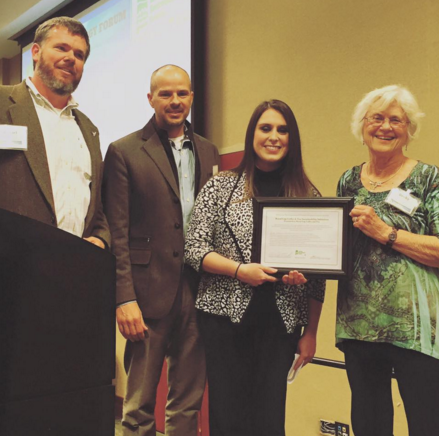 This award comes on the heels of Royal Cup's 2015 sustainability report which we discussed above and lays out a bold plan for the company in the coming years. Highlights in the report include national recognition from the Carbon Disclosure Report which honored Royal Cup for its efforts in sustainability on the floor of the New York Stock Exchange for the S&P 500's Climate Change Report.