Each month we feature a different face from around Royal Cup. This month we talk to HC Valentine Master Roaster Stacy.
---
Currently we are in the middle of 30 days of coffee on our Facebook and Twitter pages! We're exploring coffee facts, tips and history as we lead up to International Coffee Day September 29th! That being said we thought there would be no better ambassador to talk about our coffee than our very own HC Valentine Master Roaster, Stacy. Stacy runs our HC Valentine plant and is the mastermind behind the artisanal roasting process for our finest coffees. 
Tell us a little about your role and responsibilities as Master Roaster:
I manage the production of all HC Valentine products and ensure that full order fulfillment is achieved. Lead all roast development and quality control processes while providing training and assistance to sales associates and other employees
You have an interesting history with Royal Cup. Can you talk a little about when you started and how you got to being our Master Roaster?
When I started working at Royal Cup, I began in the green bean receiving department, unloading bags of green coffee from trailers. When there was an opening in the roasting department, I applied and was offered the position. As soon as I started learning about roasting, the more and more I wanted to learn. Everything from the thermodynamics of roasting to the quality assurance procedures that lead to the finest end result…I wanted to learn it all. After 19 years in the coffee industry, I'm still learning, every day, and it's still new and exciting.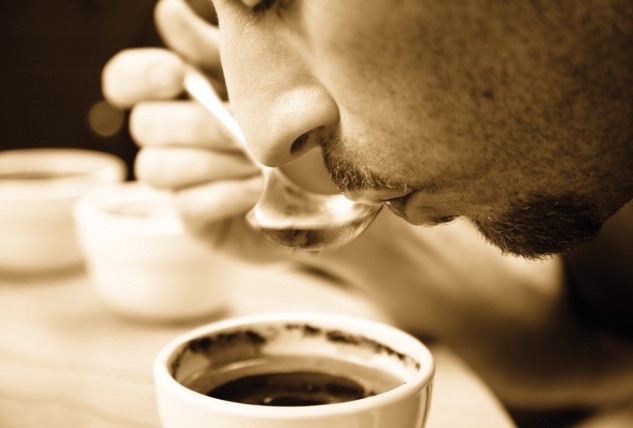 Do you have a personal favorite roast or blend from HC Valentine?
I don't know that I have a favorite coffee or blend. For me, coffee is not just the drink, but the experience. So, it really just depends on what I'm in the mood to drink. Right now, I'm loving our Guatemalan coffees, but I usually will gravitate towards the bolder darker roasts when Fall comes and the weather starts to cool off.
You see a lot of awesome stuff in the coffee industry with your line of work. What's a trend or product that you think is especially innovative?
I think that the coolest products in coffee are the ones that simply improve on the most basic principles. To have the best cup of coffee, you only need two things; great coffee and water. It's hard to beat a simple pour-over for brewing. The best innovations seem to be focused on presentation and convenience, without changing the actual brew method.
What is your proudest accomplishment since being at Royal Cup?
My proudest accomplishment is something that happens over and over again. We've grown tremendously and will continue to grow, but I never get tired of hearing someone say that our coffee is the best they've ever had. There's a certain sense of pride that comes with that!
Every roast master has to deal with fires during their tenure; it's just part of the job. What's one fire that you've had that sticks out to you?
Not long after HC Valentine was started, I had a chaff fire that almost got out of control. I had pushed about 15 batches through the roaster when I smelled that burnt chaff smell. Anyone who's roasted knows that smell. I was all alone, but wasn't worried because chaff fires are something you just get used to. I went to check the chaff collection bin, ready to see a little smoke, and spray a little water on it…no big deal. When I got to it, the walls of the bin were orange and the paint was bubbling off of the sides. All I could do was choke off the oxygen and flood the bin with water. After a while, the flames were out. There was a big mess, but a mess can be cleaned up. It could've been much worse!
Thank you Stacy for your time! If you're interested in finding out more about Our People click HERE. If you'd like to find out more about our HC Valentine line of fine coffees click HERE.