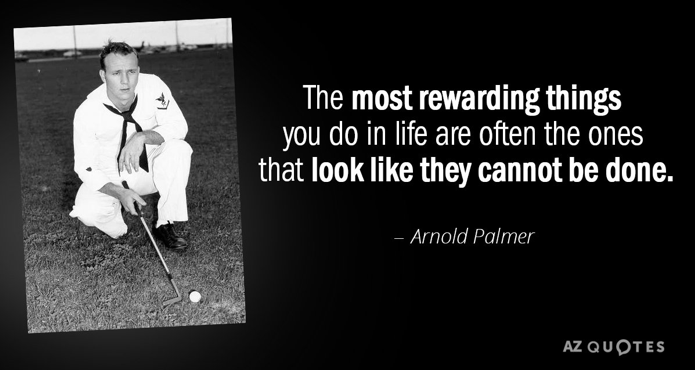 Here at Royal Cup, we are a family focused team with deep roots, a strong history, and many traditions. This is why we admire the story of the late Arnold Palmer and his significant contributions to not only the game of golf, but to the legacy of iced tea.
Arnold Palmer's life created a culture of charisma. While Palmer is referenced as a golf legend, winning 92 championships during his professional career, he is also known as a very successful businessman and aviator. You could say curiosi-TEA was his philosophy, which is every reason why the Arnold Palmer beverage was born.
How did this tea… come to be?
In 1960, after a long day of designing a golf course, Arnold Palmer sat down for lunch and ordered a mix of tea and lemonade. Almost immediately, the lady sitting at the table beside him summoned the waitress and said, "I'll have that Arnold Palmer drink." The rest is history! Arnold's success turned in to a style and before you know it, America wanted to not only play golf like him but talk and drink like him. 40 years later Arnold Palmer Enterprises began bottling and distributing the mixture and today we are still enjoying the fruits of Palmer's labor.
This summer's perfect mix is the Arnold Palmer beverage. A little sweet and a little sour, it is always happy hour with this traditional summer staple! Below is our go-to recipe for the Classic Arnold Palmer.
Classic Arnold Palmer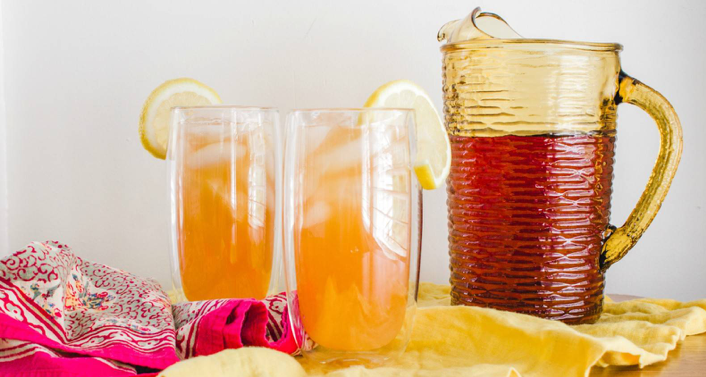 Photo credit: Kate Williams
Ingredients:
Lemonade
1 cup sugar
1 3/4 cups water
4 large, juicy lemons
Black Tea
Arnold Palmer
Ice cubes
1 cup black tea (above)
3/4 cup lemonade (above)
Lemon simple syrup, to taste (from Lemonade, above)
Lemon round, for garnish
 
Directions:
To make the lemonade: In a small saucepan, combine the sugar with 1 cup of the water. Use a vegetable peeler to remove the peel from one of the lemons. Add the peel to the sugar mixture. Place the saucepan over medium-high heat and bring to a boil, stirring to dissolve the sugar. As soon as the mixture comes to a boil, remove the saucepan from the heat and let cool to room temperature. Once cool, remove the lemon peels.
Meanwhile, halve the peeled lemon and the remaining three lemons. Squeeze the juice out into a medium pitcher; you should have about 1 cup of juice. Stir in the remaining 3/4 cup water. Once the syrup is cool, stir 3 tablespoons of the syrup into the lemonade. Add more, to taste, if desired. Reserve the remaining syrup for the Arnold Palmers.
To make the black tea: Place the tea bag in a medium teapot or heatproof pitcher. Bring 2 cups of the water to a boil; pour the boiling water over the tea. Let steep for 5 minutes, then remove the tea bag. Stir in the remaining 2 cups water and let the mixture cool to room temperature.
To make an Arnold Palmer: Fill a tall glass with ice. Add the tea and lemonade and stir to combine. Taste, and add additional simple syrup, if desired. Garnish with the lemon slice and drink immediately.
Recipe courtesy of Southern Kitchen.
Need something with a more "pop?" For those particularly warm summer days when you may need something beyond a cold beverage to beat the heat - try this cool recipe for Royal Cup Arnold Palmer Pops!
Enjoy an Arnold Palmer mixed with Royal Cup tea this summer and experience why this has become a statement in American culture. Don't forget to share your summer beverage creations with us on Facebook, Instagram or Twitter!