This month we sat down with Royal Cup Chief Marketing Officer Anne Pritz to talk about her role with the organization, how she sees team members coming together and the importance of advocating for each other. But first….  
What's in Anne's cup? Well, it depends on the time of day. In the morning Anne enjoys at least one (or more) cups of the One World Blend from our ROAR premium brand product line. "Not only is it a delicious coffee, but I like that it celebrates multiple coffee origins from around the world as they are blended together to make a beautiful cup of coffee!" says Anne of her chosen brew. Then at 2:00 p.m. it's Tea Time and you can find Anne enjoying a hot herbal tea - ROAR Limoncello Chamomile or ROAR Cranberry Rooibos.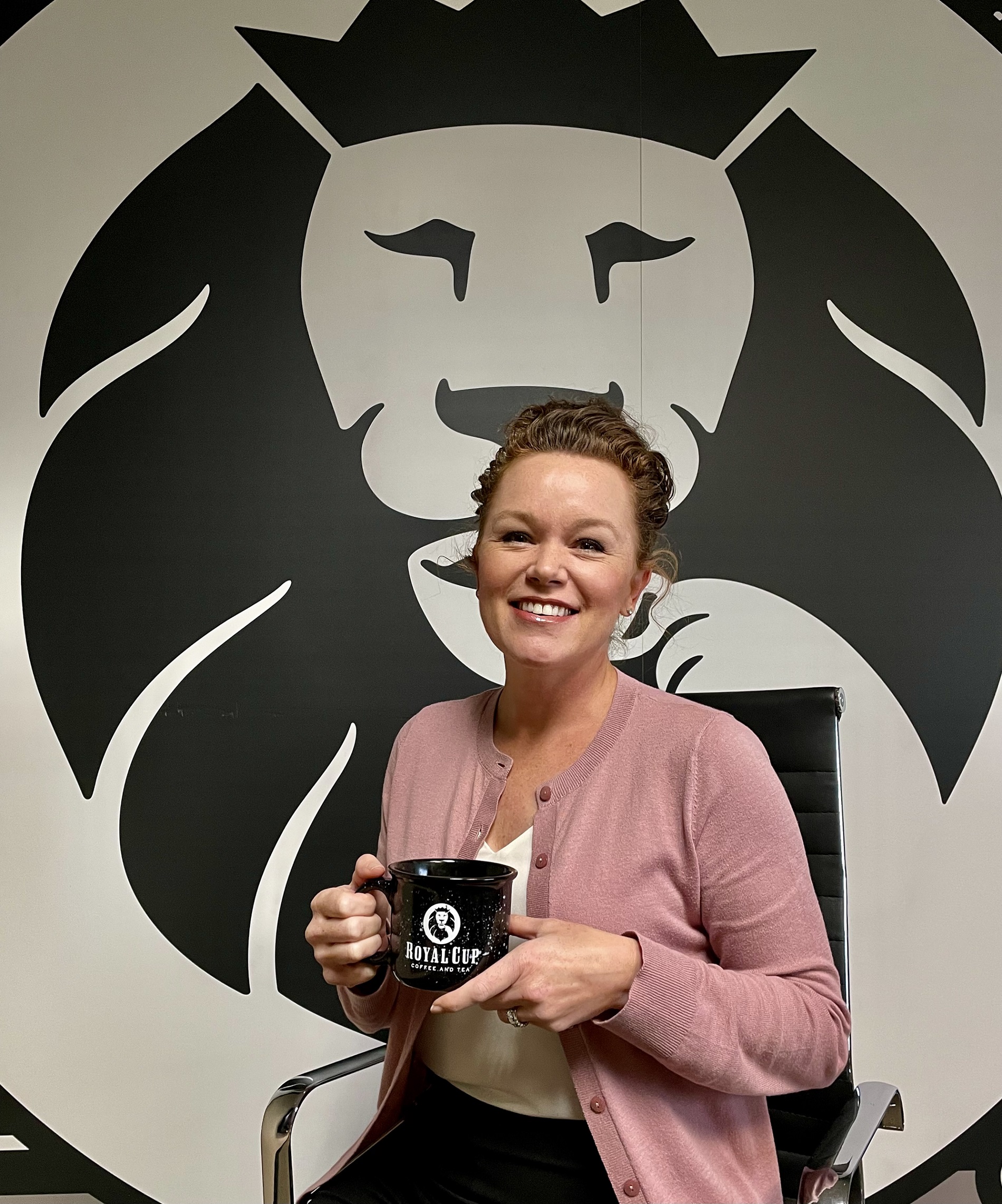 Anne's morning ROAR coffee helps jump start her into a day wearing many hats. As the Chief Marketing Officer, Anne oversees – Customer Service, Sustainability, Legal Initiatives, and of course Marketing.  
"While my professional training and true passion come to life in marketing, I have the Privilege and Honor of working with many departments at Royal Cup, which makes everyday a little different, and that's the type of environment I thrive in."  
Anne's week is filled with critical tasks that keep Royal Cup running smoothly, including; supporting our sales teams, customers and prospects through branding and product innovation, creating a platform to highlight industry and market trends, defining a path forward with our sustainability team, and working with senior leadership to drive company initiatives. With all this Anne still finds time to insert fun - "Walking through the office and our plant operations breakroom to say hello to our Royal Cup team is something that I love to do. Connecting with our team members is a priority of mine and you will often see me having in-person meetings whenever possible or utilizing the video calls on Teams to connect with the team in the field." 
Anne was the first female to join the Leadership Team at Royal Cup when she took the CMO position almost five years ago. "I joined Royal Cup because of its reputation as a leader in the coffee and tea industry who was looking to modernize the portfolio, while remaining committed to their strong focus on customer service," said Anne reflecting on why she joined the Royal Cup team. This modernization was highlighted by the rebranding effort that Anne led with the support of the organization. "The rebranding was centered on taking a true look at our portfolio, streamlining, and modernizing the offerings, and embarking upon  a rigorous market research project to truly understand the needs of our customer's customer. We have been going to market with the new branding for nearly three years now and we will continue to Lead Forward to ensure we are meeting the needs of our customers." 
This month we celebrate Women's Equality Day on August 26th - this is the day observed in the US to commemorate American women be granted the constitutional right to vote and we wanted to understand what Women's Equality means to Anne and to Royal Cup.  
"Granting women the right to vote was one of the most notable milestones for women in US history as our voices were heard and acknowledged. Today, we continue recognize the powerful voices that women carry and seek to continue to find ways to amplify the thoughts, ideas, and assertions of women. Equality in the workplace, means so much more than the one word. It is about voices being heard, creating an equal playing field for all, and everyone coming together in support of one another without hesitation or reservation." 
Being an advocate for collaboration and support, Anne spearheaded the foundation of WIN in 2018 - Women In – a women's resource group targeted at further developing and empowering the female workforce at Royal Cup by creating an environment for networking, mentorship, skill development and education. WIN seeks to support team members where there is opportunity to advance professional abilities and skills that are the foundation of quality leadership in all roles and all levels of our organization. "WIN was founded to create opportunities for all Royal Cup employees – men and women – providing that networking interaction and support to help each other grow and find balance between work life, home life, family, friends, you name it. WIN is the longest standing resource group at Royal Cup, and we look forward to growing."  
As we Royal Cup, and Anne, as a leader, continue to navigate the coming year her goals are clear. "We are focused on the future and on supporting our customers as their business emerge from the pandemic. This means establishing goals and collaborating with our customers and external teams for the betterment of all. When I think about at our internal team members, I see so many wonderful opportunities for all and as we realize those, I know that will only make Royal Cup stronger as we embrace the voices and differences that each team member brings."  
On a personal level Anne has always been a firm believer in mentorship, having been a mentee and mentor herself. "I hope to continue my mentor and advocate relationships that I currently have, and to build more. They require time and dedication that I am determined to continue because they are beyond worthwhile, and the long-lasting benefits are evident to everyone involved." 
We wish everyone an empowered Women's Equality Day and hope that you find a way to support someone in your circle today. Cheers!  
*Interviewed and Authored by Leigh Priecko