In this month's "What's In Your Cup" feature, you will meet a member of our team that is known widely across the organization as the definition of what it means to be a true teammate and coach, as well as a coffee aficionado and a sales guru. Today, we had the opportunity to sit down with Buck Perkins, a foodservice national accounts manager based in Boise, Idaho.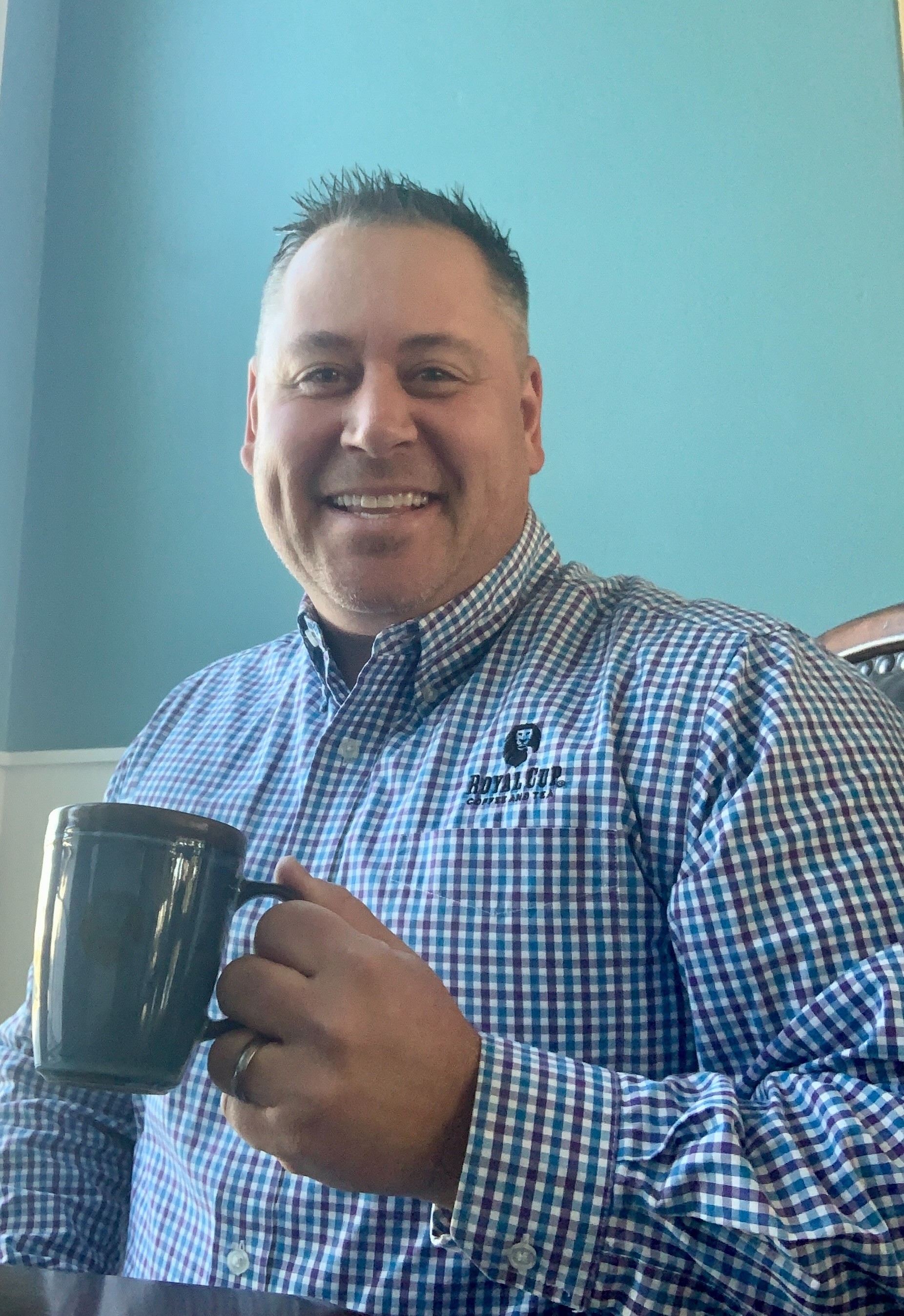 Before we get to know Buck a bit better, it is only fitting we start this blog as we always do. So Buck, what's in your cup? 
"ROAR Colombian," he quickly answered. "It's my current favorite because of its dark roast and it's also keeping me warm this morning because there is a bit of a chill-out there today." The weather is certainly turning, and we are all enjoying the changing leaf colors, even starting to see some snow beginning to fall in the north. "But is snow good for potatoes?" We had to ask knowing Idaho is the potato capital. Buck laughed with us and shared there seems to be more corn being grown in Idaho than potatoes. Who knew? 
Buck began his career with Royal Cup as a Territory Manager (TM) in the Pacific Northwest. "Being a TM was one of my favorite roles within the company. Not only was it my first, but it also took me from working in restaurants to helping provide coffee and tea to the restaurants in my territory. I was also able to see my wife a lot more!" 
Buck later transitioned to an account executive and then to a branch manager with his sights set on a path toward becoming an Area Manager. But the sales bug caught him again and he found his way back into sales, ultimately to his current position on our national account sales team in 2020. 
Being a member of the team for more than seventeen years, we enjoyed hearing what Buck learned along the way. One of the first things Buck knew he had to tackle was figuring out what good coffee really was. "When I joined Royal Cup, I was only a flavored coffee drinker and didn't know all of the specifics one should know when selling every type of coffee or tea product," shared Buck. "I had a lot to learn but was certainly excited to get going." 
As Buck continued to sip on his black, dark roast Colombian coffee we wanted to hear about what he enjoys most in his current role with national accounts. "I am able to use all of the skills I have learned over the years in my current role. As a branch manager, I was a leader of people and had set out to dynamically change the way we service our customers each day. Today, I am the lead service provider to my customers. I solve their challenges by providing solutions every day. If my customers have the right product and the best service, then we are doing right by them." 
"I had a manager when I worked in the Pac NW that would always say we need to create 'raving fans' out of our customers," Buck explained. "I have since adopted this philosophy as well. Each day we focus on if we are taking care of customers by keeping their focus our focus. When we do this, we will continue to win every time." 
As Buck is sharing this with us, it is clear he is a goal-driven person. So, we had to ask him what goals he has set for the next year. "Exceeding goals is always my first goal," Buck says definitively. "I also have a large hotel chain prospect that I am looking forward to bringing into the organization and some fun product innovation on deck with one of our long-standing customers."  
Talking with Buck is like chatting with an old friend you've known forever. You laugh easily and just simply enjoy his company. As we begin to wrap up, we simply could not help to ask him to answer: 
Four Fun Facts with Buck: 
What music is on your playlist these days? Well, that depends on my mood. I like everything. In between sales calls, I listen to smooth jazz. I am very excited about this time of year because I absolutely love Christmas Carols! So, I get to listen to smooth Christmas Jazz. But my party-playlists are epic; going from country to throwback hip hop and 90's rap.  
What are you most proud of? We have made some big family changes this year. We moved to Boise; we found a community quickly, have been able to give back, and have really made Boise home. My son is a sophomore in high school, so he had a new school in a new state, of which he has fully embraced and is thriving. 
What is something that you are really good at? Adding levity to a difficult conversation. I believe that adding a piece of dry humor into a challenging conversation helps tremendously. People need not take life so seriously. 
What is something that might surprise people about you? I am a night owl. It's because of all my years working in a restaurant. There is a saying about night owls that is so true, "A 'night guy' – is a 'fun guy.' A 'morning guy' – is not so much fun. 'Night guy' makes life hard for 'morning guy'. And 'morning guy' will tell 'afternoon guy' to check 'night guy' at shift change to make the morning easier. It's a vicious cycle, but one made easier with a great cup of Royal Cup Coffee. 
Interviewed by Ashley Moore 
Written by Anne Pritz