For this edition of "What's in Your Cup" we had the pleasure of speaking with Freddie Jacks, First Packing Manager. Freddie shared his journey with Royal Cup, what he finds most exciting about his role in the company, and of course what he defines as his favorite beverage.  
As you know we must start by asking, "Freddie, what's in your cup?"
"I got my start early this morning, around 5:00 a.m. I usually have a cup of one of our Prideland coffees because any of those roasts are my favorite. I don't have to add sugar or cream – just the coffee itself." 
He also expressed that if he decides to spruce it up, he enjoys a cup of the ROAR Sumatra.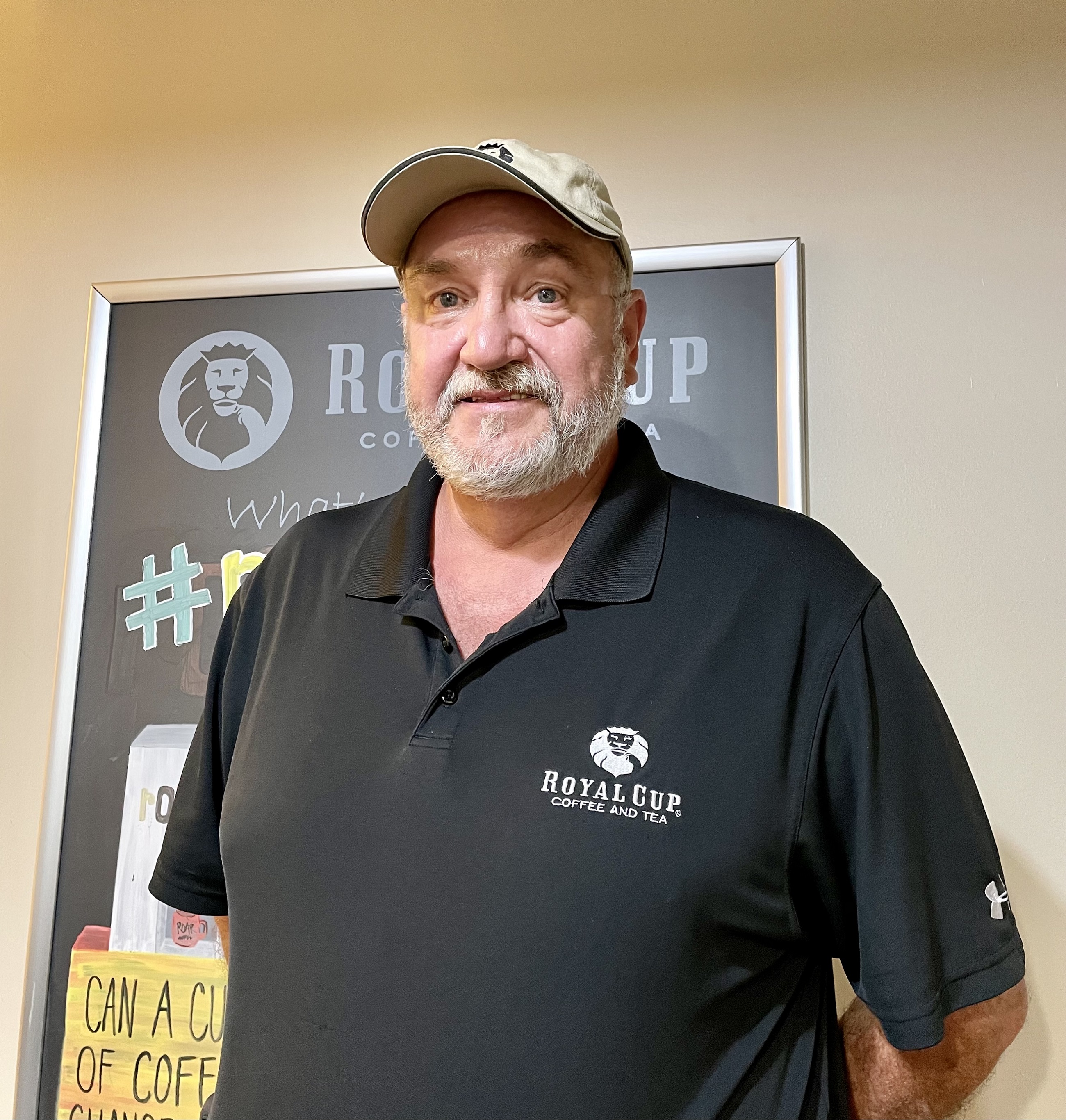 Freddie will be celebrating his 23rd year with Royal Cup in September. He started with the company as part of our maintenance team. "I was unemployed for three months, and I found a job." Freddie stated, "I worked there for 6 weeks in maintenance, but I got a call from Royal Cup and started working in roasting. It's also where I got my start in management." 
Freddie started at Royal Cup with, as he says a little knowledge of the complexities of coffee, but soon he fell in love with the beverage. "Now, at the time, the only thing I knew about coffee was that some tasted better than others, and I did not know why. As a kid, my parents had a percolator and would brew coffee at night. I finally tried it and liked it. I've been drinking it ever since."   
His roasting knowledge began to grow in 1998 when Royal Cup purchased its largest roaster. "Prior to this purchase, the company had never had a Roasting Manager. I had to learn everything about coffee and roasting, and I stayed in the position for 18 years." Now Freddie is the First Packing Manager for Royal Cup. 
"When the pandemic first started, I had in the back of my mind that I am lucky to be with a company like Royal Cup," Freddie answered after being asked what kept him motivated during that time. "If we work hard, we will continue to be successful as a team, and that kept me going at the time. We never thought that this would last for a year, but trying to get back to some kind of normalcy is what kept me going."  
With his new role as the First Packing Manager, Freddie finds excitement knowing that no two days are the same. "We are constantly moving and adjusting, which makes it challenging, but that's the exciting part – figuring out how are we going to make everything work to get the job done. We take the schedule and prioritize based on what needs to be run each day. " 
Before wrapping up the interview, we asked Freddie "3 Fun Fact" questions: 
What kind of music do you like? My dad opened me up to the world of music. He would play a lot of music from the 50s, and I liked it and it enticed me to listen to other types of music.  As a kid and currently, I listen to southern rockers, disco, KC and the Sunshine Band, and 40s big band. I am pretty open to anything that catches my ear.  
What's the best advice you've received and from whom? A former coworker told me that if you want to know what is going on, go out there and see it for yourself. That has stuck with me. 
What is one thing in your life that you are proud of? My kids, I have four boys. I am proud that they turned out well. 
After sitting with Freddie, it is evident that he encompasses the Royal Cup spirit, wisdom, and love for coffee! So, let's all get ready to celebrate his upcoming anniversary with the Royal Cup family! 
*Interviewed and Authored by Ashley Moore
To stay updated with our latest news follow our social media accounts. 
Instagram, Twitter, Facebook, Pinterest